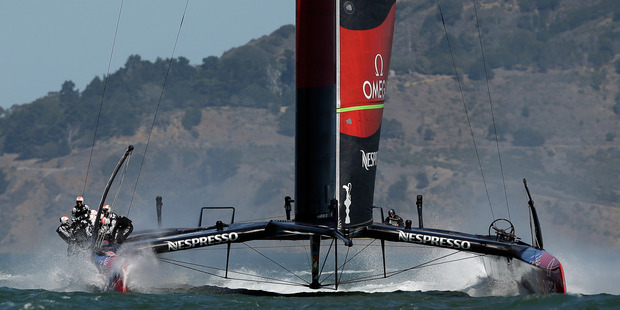 Team New Zealand turned up for racing yesterday with new fairings. Only they were the old ones.
The game of modifications and copycatting is on in earnest now as both teams seek for a telling edge between two evenly matched boats.
It's true that Team Oracle USA have copied a lot of Emirates Team NZ's advances, but it works the other way too. When Team NZ wheeled its boat out of the shed after its modifications for the Cup match, it came complete with the spoilers on the back (colloquially known as the "pie warmers") and a new, bigger fairing.
The fairing is part of the boat's main forward structure; an aerodynamic package designed to reduce drag and help with lift - and Team NZ clearly felt Oracle's was superior as they basically copied.
But yesterday, when the Kiwi boat turned up ready for racing in the robust winds of 25 knots that eventually saw racing cancelled, they had gone back to their old fairings.
The gossip is that the new fairings may not have been helping with lift and/or stability in the heavier winds that have applied lately. So they switched back.
This is a big job for the shore crew but may pay real dividends for Team NZ. While waiting for the race, don't-race decision, some seasoned observers watched Aotearoa go through its preliminary paces. "They were going very, very fast," said one.
However, this match is such a game of chess in San Francisco's complex mix of winds-tides-currents that it may be that we do not see the old fairings again.
The weather forecast for the next two days is for lighter winds and a weaker flow from the outgoing tides. That could mean another big task for the shore crew - maybe unbolting the old fairings and replacing them with the new ones again; taking advantage of the lighter airs.
It all adds to the fascination of this regatta. The boats are so responsive to change that re-moding them for different conditions can bring instant results.
But you have to get it right. Decisions and alterations have to be made by 8pm the night before the race, meaning weather forecasting has to be spot on. There have been signs the Kiwis have got their moding slightly out of kilter with the weather a couple of times.
That means the win in race 10 on Monday cannot be understated in its importance to Team NZ. Oracle had won two in a row and race 9, in particular, was an almost flawless display which raised suspicions that the American-based syndicate had found a silver bullet.
So to come back and sail so sharply that they withstood a lead change and skipped away on the downwind leg (aided by a mistake from Oracle) was a massive boost to New Zealand's confidence.
They had confronted Oracle in their favourite conditions - and beat them.
That came even though Oracle unveiled some frighteningly good speed upwind in race 10, touching over 34 knots as they sailed upwind and over 38 knots as they blasted around the bottom mark to head upwind.
So the game of chess on the water goes on, with moves made in the boat shed and on the water and in long, detailed analysis.
At the end of it all, the hope of the shore crew is that they have given the sailing team enough of a boost that Oracle's supposed advantage in heavy winds and rough waters is no advantage at all.