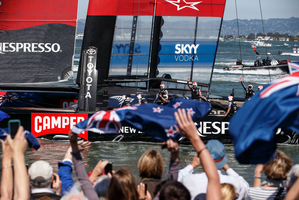 The advance weather forecast for today's America's Cup racing is not good - depending on how you look at it.
The forecast is for winds building to well over the agreed wind limits for racing in the match - but that might not be a bad thing for Team New Zealand.
Everyone, including Team NZ, has been impressed with Oracle Team USA's resurgence in recent races.
They have won two of the last three races and have shown they are more at home in high winds and with an outgoing tide.
If today's racing is postponed, the weather is said to be ready to settle a little more and, while the tides will still be outgoing (an ebb tide), the flow effects will be less the more the week goes on.
All three of Oracle's wins have come in winds of 20 knots or over; the Kiwis are more at home in the mid-range breezes (although they showed with that vital win in Race 10 that they can foot it in the stronger airs as well).
However, Oracle have also got their boat moving faster and are sailing it better, particularly through manoeuvres like tacking and gybing. The figures in this graphic are far from conclusive, as there are many variables at play, but we have tried to pick races of reasonably similar conditions - and the progression does show Oracle's gathering pace.
The graphic relates to the leg of the five-leg race course where the boat speed and boat handling have been most important - the third leg, upwind. At the beginning of the match, Team NZ were vastly superior. But now, Oracle have improved to the point they are matching and sometimes surpassing the Kiwis.
Team NZ have won seven races, Oracle three (though the score is 7-1 when adjusted for Oracle's jury penalty). The races in the graphic show the increases in average speed and maximum speed in the upwind leg over races 1-4 and races 8-10 (four Team NZ wins, three Oracle wins).
Both boats show mostly an upwards curve and Oracle end up, according to the official statistics, with a maximum speed of an astonishing 38.3 knots upwind in 21 knots of breeze.