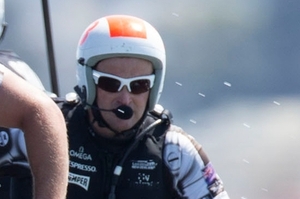 Emirates Team New Zealand are taking action against Golden Gate Yacht Club vice-commodore Tom Ehman under the same regulations that saw the America's Cup international jury penalise Oracle Team USA two points in the cheating saga.
Ehman made his own veiled claims of cheating to a journalist from the Independent in London. But Team NZ have rejected the claim and were preparing an application to the jury under the same Article 60 of the protocol (bringing the Cup into disrepute) and Rule 69 of the rules of sailing (gross misconduct) as were taken against Oracle.
Golden Gate is the club hosting the defence of the America's Cup on behalf of holders Oracle. Ehman (who is also director of external affairs for the America's Cup Events Authority) complained of Team NZ's radio system connecting to tactician Ray Davies and said Oracle did not have the same thing.
He reproduced a quote first used by America's Cup icon Dennis Conner in 1986 (he was complaining that New Zealand's "plastic fantastic" fibreglass yacht was cheating and said, "Why would you [build in fibreglass] if you didn't want to [cheat])." All the other yachts were made of aluminium.
Asked if he knew what he was saying in using the same quote, Ehman told the Independent: "Yes."
Regatta director Iain Murray told the newspaper he had inquired into the allegations and felt Team NZ were not cheating. Both teams had radio systems that connected to their boats but they had to be turned off during the race and couldn't be used again until the race was called off.
Oracle's original complaint, from rules adviser Richard Slater, alleged that coach Rod Davis had communicated with tactician Ray Davies while a race was still in progress. But radio contact was initiated only after race director Harold Bennett could not contact the boat to advise that Race 9 had been called off on Sunday for excessive wind. Team NZ chief Kevin Shoebridge, not Davis, then relayed the message.
That led Oracle to question the Kiwis' use of the system, querying whether it was in breach. However, Ehman's claims went further than that, with the veiled reference to cheating, and Team NZ decided to take the matter to the jury.