Team NZ stop their campaign from capsizing but are now forced to dig deep as theCup defenders start to get into the sailing groove and improve dramatically.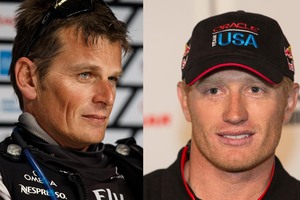 On Sunday, New Zealand's America's Cup campaign hung in the balance with their alarming near-disaster. Yesterday, their campaign hung on Race 10.
If they had lost it, their hopes would not have been capsized - but they might have been badly holed. Two wins to Oracle Team USA yesterday would have taken their performance out of the description of brave resistance and into the realm of a legitimate, worrying comeback.
Forget all that talk of "momentum". Team New Zealand skipper Dean Barker put it best: "Momentum counts for nothing. Each time you line up, it's a new race."
However, just like the sailors, we are all learning more about the 72-foot AC72 catamarans as this regatta continues. One obvious factor is that Oracle are happier in stronger winds (which are forecast over the next couple of days) and the outgoing or "ebb" tides (ditto). So, to come back and beat them in their optimum conditions was a huge blow struck by Emirates Team NZ after being so convincingly beaten in Oracle's best display of the match in Race 9 (winning by what could have been a crushing 47s).
Team NZ have two wins to go. Oracle have eight. Just as Oracle skipper Jimmy Spithill has said "we know we can beat these guys", so "these guys" now know they can beat the Americans at their strongest.
They got there in one of the most exciting races in America's Cup history, where the two 72-foot catamarans parried and thrust like fencers, trading blows like boxers; going at it like two tennis players locked in a game of interminable deuces - advantage going from one side of the net to the other. For 90 per cent of this race, the winner could not be identified.
Changes in conditions - wind speed, tide, currents - are key variables in yacht racing. Some sailors prefer certain conditions. Some boats are set up better for certain conditions. With the advantage of race-day pressure, crews learn how to go faster and sail better. We are seeing all of the above. Oracle have convincingly upped their game. Their adjustments to the boat have worked; Team NZ feel Oracle have obviously made the same sort of leap the New Zealanders achieved in learning how to handle and how to "mode" their boat for certain conditions.
That probably lays to rest the debate about which is better: two boats (as Oracle have) with which to trial and replicate match racing conditions or actual match racing, as the Kiwis enjoyed during the Louis Vuitton. It appears more is learned under the pressure of race days.
What this all added up to was the most exciting race of the match and one of the best in Cup history. It maybe wasn't the best finish - that honour probably still goes to that magical finish in Valencia in 2007 when Alinghi pipped Team NZ and Barker on the line by one second as Barker led to the line but had to complete a penalty turn.
When that race finished, it was so close no one knew who had won. The yachting community worldwide looked at each other and said: "What happened? Who won?"
But that race wasn't run at these incredible speeds - 33 knots into the wind? In San Francisco, Race 10, the winner was clear (Team NZ by 16s) but the battle to get there was epic.
They led downwind, turning upwind where Oracle found wind shifts, current gains and tacked like men possessed to threaten the Kiwis' lead, eventually wresting it off them. Then followed a tacking exchange where the lead changed three more times. Team NZ won it with their work at the top mark with tactician Ray Davies working the lay line superbly for the turn. They skipped away when Oracle and tactician Ben Ainslie decided to dip behind the New Zealand cat to try to ambush them by coming back on starboard at the final gate - a tricky manoeuvre where the boat has to slow for position. They slowed too much and Team NZ were gone.