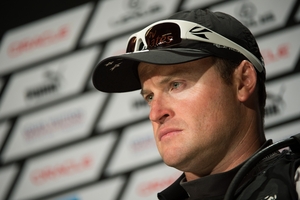 "I was just hanging on, like a koala."
That was Australian Glenn Ashby's perspective from the dizzy heights of a Team New Zealand AC72 hull close to capsize after that nerve-jangling near-disaster on Sunday.
Asked if he had thought about jumping off, Ashby said: "I never gave it a moment's thought ... It was a good view from up there. You could almost see your own house. In New Zealand."
But Ashby, wing trimmer and a key man on the Kiwi boat, also got a good view of his opponents' improvements in races 9 and 10 yesterday and thinks Oracle Team USA have mastered a series of small improvements adding up to big increases on the upwind leg.
In previous races, Oracle have struggled to match Team NZ's pace upwind. The change in conditions - more wind and an outgoing tide - has seen the American syndicate lessen that edge, and occasionally turn it to their own advantage.
"I think probably they have tweaked their foil set-up," said Ashby yesterday. "Maybe they've also looked at their rake management [raking the foils backwards and forwards], their hydraulics and some of their aerodynamics - like getting rid of their bowsprit."
Ashby also thinks Oracle have managed to work their massive wingsail so that it offers more twist - something Oracle were struggling to match in terms of the New Zealand boat's wing flexibility and the ability to harness the wind.
"I think they've got a slightly different wing twist now. But I think what we are really seeing is the culmination of four or five things they have done."
The most obvious improvement was upwind. In race 9 (Oracle won by 47s), they sailed about 240m less than the New Zealand boat, although Aotearoa was marginally quicker in average and maximum speeds on the upwind leg. That's a sign Oracle are able to sail more directly to the mark.
Upwind speed has been the major factor in the regatta but Oracle have closed the gap and even opened one of their own - at least in windy conditions on an outgoing tide. They were foiling happily upwind, at one stage quite high on the foils and at others skimming the waves - just as Team NZ have been doing.
But, with the wind at 16-18 knots and an incoming tide, the Kiwis have been superior.
Skipper Dean Barker said: "In certain conditions, I think we are seeing boats perform better and in other conditions, it might go the other way.
"As we go through the series, we sail in a variety of conditions, sea states and everything else. Teams are still developing and it is a case of making sure you learn all the way through - you have to keep developing. We are not standing still out there; there are a lot of gains still to be had."
Ashby said: "Today was a big win for both teams. It certainly gave us a lot of confidence going into the next windy day that we can keep ticking them [wins] off.
"Tomorrow will be a massive day. We will be looking through reams and reams of data, the videos, talking to the engineers and the designers to do whatever we can to improve the performance of the boat. You can't stand still."