Second-rower Courtney Lawes adds strings to his bow in a bid to regain his status in the national squad.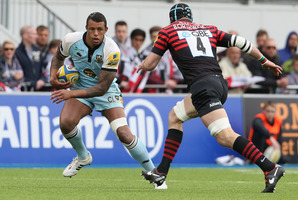 The days when Courtney Lawes was happy just to be known for making thunderous tackles appear over.
The Northampton forward, once hailed as the England squad's 'silent killer' because of his love of big hits is determined to become renowned for his rugby brain, not just brawn.
Former England manager Martin Johnson saw him as capable of dominating the national side's second row for a decade, but injuries and dips in form have resulted in Lawes starting the season on the fringes of Stuart Lancaster's squad.
The 24-year-old, however, has been central to Northampton's spectacular start to the Aviva Premiership. While the spotlight has focused on George North, Alex Corbisiero and Kahn Fotuali'i, Lawes' pre-season form suggests he is poised to make a strong case for his return to the England side, having been forced to watch as Joe Launchbury and Geoff Parling nailed down the second-row positions.
Central to his return to form has been a desire to assume more responsibility. If the two hits on Leicester's Toby Flood in Northampton's Premiership final defeat at Twickenham showed his eagerness to impose himself physically is undiminished, he seems to have realised it alone is no guarantee of success on the international stage.
"I'm working hard on my hands and being as involved in the game as I can," said Lawes, who has won 22 caps for England. "I'm at the point now where I am very confident in my game, I feel good carrying the ball. Hopefully, I'll stay fit and be able to reach the heights again.
"I'm a bit older and one of the senior players, even though I'm still young. You don't have to go out and try ridiculously hard to play well. Mentally, I'm in the right place."
A sign of that growing maturity was seen in England's victorious tour of Argentina in June, when he put his hand up to call the lineouts in the absence of Parling.
Having felt the leadership role brought the best out of his game, he asked Northampton if he could do the same for them on his return. "I've started calling the lineouts here and we'll see what happens," he said.
"I did it in Argentina and in pre-season games. I had to on tour because there were no other callers, it's another string to your bow and I thought I may as well crack on with it. You can take the laptop home and do your research.
"I wouldn't say I'm quite on the level of Geoff Parling, with his research, I'm a little bit more relaxed. I can only be the best I can be. I'm confident in my ability and if I can get to the form I've shown before, I'll fancy my chances."
Lawes has also benefited from a change in emphasis in Northampton's training programme following the arrival of assistant Alex King from Clermont.
"We've had a different sort of pre-season, much more technical and specific to each player, worked more on our hands, which shows we're evolving our game.
"We did a lot more rugby-specific stuff rather than running up hills. We still did a lot of fitness, but Kingy's certainly helped to strengthen our knowledge of the game.
"We've got a great base to start the season, the difficulty now is living up to the expectation every week."