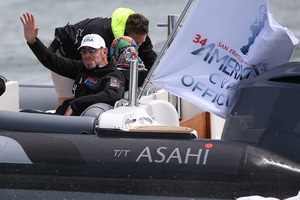 Oracle billionaire Larry Ellison and some top United States sports and media chiefs are proposing an annual world series of sailing which could hijack the America's Cup and take it into a new era.
The plan is being ruined, so far, by Emirates Team New Zealand's dominance of the 34th America's Cup in San Francisco - but that did not stop it being outlined as a potential new future for the Cup.
If Team NZ win the Cup, they have control over its immediate future - but Ellison and some of the biggest US heavyweights in professional sports have other ideas. The outline came from Harvey Schiller, vice-chairman of the 2013 America's Cup advisory board, at the Bloomberg Sports Business Summit in New York yesterday.
Schiller is a former chairman of Yankee Nets (owner of the New York Yankees and other huge US sporting franchises) and a former head of Turner Sports (CNN mogul Ted Turner won the America's Cup in 1977). Schiller yesterday said the plans needed Oracle Team USA to win the Cup, but also said the change would happen anyway.
The proposal is for 10-20 America's Cup franchises to contest an annual World Series at different venues around the world, sailed in 45ft catamarans like the AC45s used in Oracle's America's Cup World Series over the last two years.
The difference is that it would involve franchises, starting from 2014, from Asia, Africa and the Middle East as well as the usual suspects from the US, Europe and Oceania. They would be competing for a cash prize, and the series would eventually produce the challenger for the 2017 America's Cup to take on the holder.
Team NZ will not yet speak of their plans for the next Cup but there is one obvious question arising from the US interest in reshaping the event: Can a small country withstand the commercial and political pressure that could be brought to bear?
Schiller's colleagues on the America's Cup advisory board include Jay Cross, a former US Olympic sailor and former president of the New York Jets; Geoffrey Mason, of ESPN and ABC sports fame who has overseen broadcasts of about 20 Olympics, football World Cups and America's Cups; Peter Ueberroth, former head of the 1984 Los Angeles Olympics (the first to be a commercial success), and Casey Wasserman, head of the sports and entertainment marketing giants Wasserman Media Group.