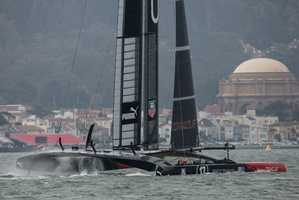 They might be changing the crew but Oracle Team USA just might be overdoing the crew work as they search for a way to haul in Team New Zealand in the 34th America's Cup.
While it now seems clear that tactician John Kostecki has been replaced by crack British sailor Sir Ben Ainslie, Oracle have been constantly on the water, training and seeking ways to reel in Emirates Team NZ.
They were sailing again yesterday and, taking into account training and racing days, they have been out on their boat six days in a row. That is a heavy schedule and some are starting to wonder if the workload isn't catching up with Oracle's team.
The design of the boat means that virtually everyone has to operate the grinder handles which power the hydraulics used to operate the enormous wingsail and the foils.
On Team NZ's boat, the only one who doesn't have to grind is skipper Dean Barker.
Everyone else does and they all spend a great deal of effort skipping from one side of the boat to the other. Doesn't sound like much but try it as many times as the crew do, on a treacherous surface like the trapeze and with the boat pitching while doing 40+ knots.
Oracle trainer Craig McFarlane earlier this month suggested that the crew burn something like 6000 calories in an on-the-water training session on the boat. Recommended daily average calorie consumption for men is 2500 calories.
In their search for an answer to Team NZ's speed, have Oracle overdone the training and hard work? Many observers think the American syndicate's sometimes flawed sailing is down to overwork and pressure.
Trainer David Slyfield, who has been with Team NZ for 13 years, stresses that he cannot answer for Oracle, but says: "I personally believe over-training is real; it's not a myth. We all know you can't go hard at it forever. You don't have to be a professional athlete to know that.
"Six days in a row is getting up there. Our guys reckon we are doing double the number of tacks we were against Luna Rossa."
Slyfield says Team NZ do not measure the crew's output ("we have sensors all over the boat but not on the humans") but know they are hitting 95 per cent of maximum heart rate in training and during a race would probably be hitting new maximums.
"We are mainly focused on recovery and, in my opinion, the best recovery you can have is the best preparation. These guys got themselves into shape on land and on the water.
"We monitor them for fatigue - we have a numbers system and I validate that with my own observations. I am the first guy to see them every day and I can tell from things like posture how they are placed.
"But the most important thing is that this has all been pre-planned and we are hitting all our objectives. I am not just involved in the physical side but also in planning how many days they spend on the water and when to rest and all that - and we are pretty spot on."
Yesterday, for example, the Team NZ sailors worked on land between 9am-1pm, including team meetings and gym work before resting. There was no sailing.
"It's a hell of a good thing to stay ashore and not to be in panic mode and be in tune with your plan; you know exactly what you need to do and when to do it," says Slyfield.
Meanwhile, Oracle sailed past the Team NZ base yesterday, with Ainslie on board, in another training session. Another 6000 calories.