First loss puts pressure back on Team NZ crew to cut out errors.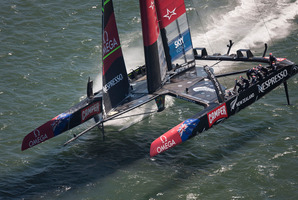 'We sailed a pretty average race and still got pretty close at the end."
That was Team New Zealand skipper Dean Barker's take on Aotearoa's first loss in the America's Cup match. They lost the start, were headed around the first mark, and were even behind Oracle Team USA upwind.
His Aussie counterpart on Oracle, Jimmy Spithill, called it a momentum shifter. Barker viewed it as a poor day, without ever using the words.
"The Oracle guys sailed really well today," said Barker after races 3 and 4 yesterday. "We did a good job in the first one to get back in front but in the last race there were a lot of things we could have done better.
"I'm happy with the way the boat is going - we just have to eliminate the mistakes."
Emirates Team NZ's erratic performance, especially upwind, saw crewman Adam Beashel asked if the team was struggling with controlling the catamaran in higher winds.
"No, it probably looks a little bit like that but, on board, you get used to it. I'd say there are a few little things for that range of conditions that we need to tweak. So we will tweak away and smooth it out.
"I don't like losing races but there are a lot of good things that can come out of this. It will be useful for [the next race]."
Oracle's change of tactics probably caught the New Zealanders out a little bit too. Whereas Oracle had come off badly in the tacking duel in Race 3, they chose to engage Team NZ less in Race 4 - benefiting from cutting down on tacks and leveraging the currents.
"Team NZ was gaining a little bit on us in the tacks so we were able to get on the favoured side of the course ... and we were able to just track up to the windward mark. It paid off for us," said Oracle tactician John Kostecki.
Spithill said: "It [the win] was huge for us, huge. It was good to see the team under some serious pressure. We had the lead and let it slip [in Race 3]. A lesser team would have crumbled. But these guys will just run themselves into the ground if that's what it takes.
"These boats are the most physical class we have ever sailed. For the guys doing the work, it is half an hour but it is relentless. The crews have a huge hand in the outcomes of these races.
"That being said, you need a fast boat. These two boats are pretty similar, I think, and there are a couple of strengths and weaknesses in each."
However, the interesting thing about the crews is that the emotional element can come into play because of the muscle needed to work the grinders to power the wingsail and other hydraulics.
Spithill has been revving up support from locals because he says it makes a difference to the crew performance.
Beashel said: "The good thing about these boats is that you can go into the race getting angry and use that on the boat. In the old boats [the America's Cup version 5 yachts and the old 12m monohulls] you couldn't use that anger - it didn't make any difference to boat speed."
So, after an ordinary performance in Race 4, watch out for Team NZ to come out a bit angry in Race 5 tomorrow.
As Barker said, the boat's going well; now it's up to the sailors.