Oracle masterminds will have burned midnight oil trying to close the gap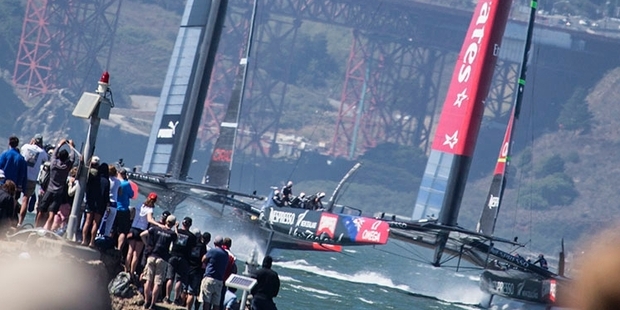 At least it wasn't a down-trou.
That was Emirates Team New Zealand's skipper Dean Barker's sardonic and self-mocking aside on winning the first two races in the 34th America's Cup yesterday.
It was a relief for Team NZ - but it wasn't Barker or his crewmates who were worrying about the "down-trou" last night. Oracle Team USA will have had a long night studying the video, watching the mistakes, and plotting a new path for this morning's clashes (at 8.15am and 9.15am NZT).
Their main worry will be their upwind speed. Downwind, the two boats are pretty even, though Team NZ may have been a bit quicker overall - contrary to what was expected. But upwind was a different story. Though it was expected that the Kiwis would have the upper hand, it wasn't thought the difference would be so stark.
In two races, Oracle Team USA lost by a total of nearly 1m 30s - by 36s in Race 1 and 52 seconds in Race 2.
Of that total deficit, more than a minute was lost upwind; that leg is only one of five but it represents about 40 per cent of the time spent on course, so large losses and gains are possible.
So far - and it is early days yet - that appears to be the Kiwis' trump card and the Oracle brains trust will have been burning the midnight oil, trying to bridge the gap.
It's not the only factor, however. Crew work has always loomed as another element in this tussle and Team NZ's smooth performance and fine team co-ordination also came to the fore yesterday. They looked to produce the more stable platform and their boat was tighter and faster through manoeuvres like gybing and tacking.
Such things are variables, though - affected by form and time on the water. Team NZ may be ahead at the moment but this is a long series - the first to nine points. The score is at present 2 to -2 after Oracle's two-point penalty from the America's Cup international jury over the cheating saga.
Oracle have a world-class team and, with better starts (Barker really won out over crack rival skipper Jimmy Spithill yesterday), Oracle could improve significantly. But, as with all America's Cup regattas, that first blood is important, points-wise and psychologically. Oracle will have been asking the question all last night: what can we do to be quicker?