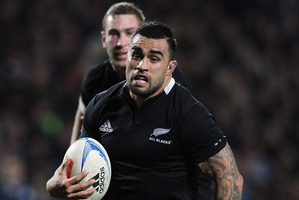 The All Blacks' remarkable record at Eden Park will fall on Saturday. There, got that out, and now for the theories.
Call it a hunch, call it madness, but there is a cocky, fresh-looking Springbok pack heading this way while the All Blacks' exertions against the muscular Argentines have taken petrol out of their tank. Using a lesson from the 2011 World Cup, it is advisable to evaluate the physical toll from previous games. The All Blacks have a clutch of injured players due back but that in itself could prove a problem if they are, collectively, not quite right.
South African sides operate best on straightforward game plans. Pretoria is the home of rugby simplicity and Heyneke Meyer is transferring that blueprint to the national side.
They were men against boys in Brisbane, where the Wallaby pack rolled over in the face of gigantic opponents. Springbok captain Jean de Villiers' post-match words for the Wallabies typified why he is held in high regard but that shouldn't mask the attitude within, a mood that emerged as the big Boks appeared to taunt their feeble opponents.
Australia are turning into a rugby embarrassment but that doesn't detract from how impressive South Africa were and their confidence will be lifted by the absence of Richie McCaw.
The All Blacks desperately need a fit Owen Franks to anchor the front row, which in turn will help avoid an excess of scrum trauma that can affect them elsewhere. Liam Messam's defensive ability, physical qualities and experience are also a must. But there will be doubts over the fitness of both, the McCaw factor is gone, there is a lack of 80-minute power and authority at hooker, the same applies at lock if Sam Whitelock or Brodie Retallick can't go the distance, and the All Blacks have not established assured impact from their bench.
A strange contradiction surrounds the All Blacks this year. On one hand there is much to admire yet on the other they actually look ready to crack, especially as a few players are heading over the hill.
South African sides tend to be at their best when they don't over-complicate the game plan. Against Australia, they created the rubble before running amok. Morne Steyn remains a weakness and a strength - his composure and goalkicking are a must yet the Springboks will never reach another level while he plods around in the No10 jersey. Wing Willie le Roux - a Cory Jane type - partly compensates for this but rugby traditional Bulls style doesn't actually covet another level anyway.
It's a dangerous business betting against the All Blacks and especially at Eden Park, where they are unbeaten for nearly 20 years. But there comes a time when that danger becomes too attractive.
The Boks look primed, and Auckland's changing demographics will afford them major support. Whatever the outcome, a titanic clash is in store. This is, once again, the battle of all battles in world rugby. Can't wait.