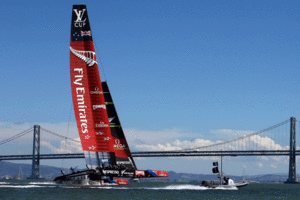 Seven to go. Emirates Team NZ lead 2 to -2 in the 34th America's Cup.
But, okay, Sir Russell Coutts and Larry Ellison, you can take a bow now. That was all that was promised.
Maybe there should be medical disclaimers: you know, 'Doctors warn that watching the America's Cup can be hazardous to your health'.
It's difficult to remember (possibly because there isn't one) an America's Cup this tense.
In race one, we saw the previously unseen - lead changes. Two of them . Count them. There was aggressive sailing from Oracle Team USA skipper Jimmy Spithill, nail-biting near misses and enough to know this is going to be a close-run thing.
These two boats are close in speed and close in the skill that sails them. When Team NZ seemed to be in control, Spithill struck. Barker rounded the bottom mark close to the actual mark to choke Spithill and OTUSA off.
He lost impetus, OTUSA pulled off a slingshot move round the outside, gaining advantage and momentum. Later in the third leg, upwind, the USA team tacked aggressively, wresting the lead off Team NZ. But Barker struck back, with Aotearoa's expected upwind speed a boon, and tacked back into the lead - establishing the control that led to a 36s win.

In race two, Barker came into his own in the pre-start. He cut off Spithill's exits and when the Aussie skipper tried to get a penalty by nosing close to the Kiwi boat, it didn't come and he lost momentum at the start.
ETNZ led round the first mark and then pushed the lead out to 7s after the downwind run. Boat speed downwind seemed to be pretty even - many were expecting OTUSA to be closer - but Team NZ seem to have the edge upwind and, in terms of crew work, were tacking and gybeing just a little smoother.
Race 2 wasn't as close as the first one but it's still too really to jump to conclusions, satisfying though they might be. There's a long way to go, a lot that can be done to tweak these boats and a ton of talent on OTUSA.
But Kiwis can still take heart. That upwind speed looks a major factor and it's hard to know what - if anything - OTUSA can do about it. In race 2, they extended the lead from 7s at the bottom mark to 46s at the top mark. In America's Cup terms, that could be a decisive advantage.
They extended that downwind to 51s and won by 52s at the line.
However, there were also some signs of wear on Oracle's wingsail before Race 2 - and signs of some duct tape repairs. It's not yet known whether that had any effect on their speed in this race but it's still too early to claim anything.
Except relief.
And the knowledge that it's seven to go.