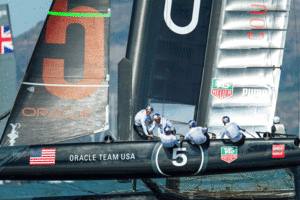 Oracle Team USA might have the advantage today.
It's all set for the first race against Emirates Team NZ for the 34th America's Cup - wind light, sea calm, everyone on shore (and doubtless on the AC72s) is not.
About 35,000 people are expected to watch the race from the San Francisco waterfront and the conditions may well favour OTUSA for this first race - and maybe for the next day or so. Lighter winds are forecast for the early clashes. The wind was about six knots this morning but may climb to 12 knots by race time at 8.15am NZT.
If it stays light, there may be little or none of the foiling gybes that we have come to expect as the boats zip 'around the corners'. The yachts might also choose to deploy their 'code zero' sails - designed to make them go faster in light airs.
"All those high speed foiling gybes we have become accustomed to may not be a factor today," said regatta director Iain Murray. "We might see those funny coloured sails up the front instead."
It's anticipated that OTUSA have geared their boat for lighter airs but the tremendous development that has taken place in the AC72s has happened so fast that such generalisations may no longer be applicable.
In short, we still won't know until the boats line up and race.
Regatta director Iain Murray said: "You always go to regattas and people say: 'it's [the weather] never like this here' - and that's what we have got today."
The breeze this morning is an easterly - a strange wind to be blowing in San Francisco but Murray thought it would change back to a south-westerly, maybe in time for the first race.
"We are hoping for about 12 knots for the first race and 17-18 knots for the second," he said. The wind limits, adjusted for tides are 23.9 knots for the first race and 22.5 for the second but neither are expected to be approached today.
"When we sat here in May [after the fatal Artemis capsize] we wondered how we were going to get these boats safely round the course. But there have been tremendous developments in boats and the sailing abilities of the crews and we have seen a tremendous escalation in speeds.
"What we have now are two wonderful sailing contraptions very different from each other. I expect a very close contest."