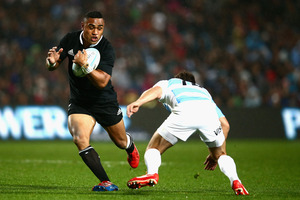 New Zealand 28
Argentina 13
Not much beauty and not enough of the beast - other than win, the All Blacks didn't do anything last night to force any radical change in opinion about where they currently stand.
They were neither emphatic nor catastrophic. They didn't leave any indelible impression in the way they went about their business. The endeavour was honest, the commitment to task all that it should have been, but there was no wow factor. It was functional, slug it out rugby.
A triumph for graft in the end. Not wildly intense, blood and snotters type graft, but the keep at it and the result will come sort.


If that left a sense of deflation, it was nothing compared with the sight of All Black skipper Richie McCaw hobbling off midway through the second half. McCaw played the World Cup with a broken foot - he only goes off if there is blood coming out of his eyes.
A nervous wait looms to see if his right leg or foot will come right in just six days.
And the All Blacks will need him. Really need him as they will have to lift every facet of their game at Eden Park. It's possible to beat Argentina with a mistake-riddled performance, but they won't get away with that against South Africa.
The sharpness of the All Blacks' pass and catch was missing last night. Their decision-making not as effective, their awareness not quite what it was against Australia. Laboured and clumsy at times when they really shouldn't have been, the whole business of winning with style was never going to happen for the All Blacks.
So it was all a little bit too much like hard work, but that's often how it is against Argentina. They are not an easy side to break down. Their defence round the fringes was impressive, they kicked well to turn the All Blacks and to pressure them in the air and the Pumas caused the All Blacks inordinate trouble at the scrum. Powerful, relentless and co-ordinated, Argentina did a fair bit of damage to the set-piece and if their lineout hadn't been borderline awful, there could have been serious doubt about the outcome.
But with Sam Whitelock in command of the touchline, and the All Blacks able to generate enough quick ball through the accuracy of their cleanout, they always had enough control of the contest.
Kieran Read wasn't really in the mood to prolong the uncertainty, chipping in with a thunderous game that confirmed him as the world's best No8. Not only were a few Pumas cut in half by his defence, he threw a miracle pass round the corner for the opening try.
Brodie Retallick and Whitelock gave the pack their horsepower and between Aaron Smith and Dan Carter there was enough direction to score three tries.
New cap Francis Saili told the story of the night with his performance. He was everything the coaches imagined he would be - lively on his feet, willing to attack space and highly erratic in his decision-making. His second touch would have been a hard one to put out of his mind: seemingly all on his own in the middle of Waikato Stadium, he made the mistake of lifting his head as Carter's pass came towards him.
He dropped the ball, lost his footing as he scrambled for it and three passes later he was standing under the sticks trying not to look any of is team-mates in the eye.
The mistake wasn't particularly unexpected - new caps, especially one with a sense of adventure such as Saili, are vulnerable to making a few. The interest was in how he responded. Would he try to reinvent himself as the conservative player he isn't? Or would he have the courage to play his natural game.
It was definitely the latter and if anything, maybe a little too much so. The worry was always about him trying to do too much - work his way through his repertoire when it wouldn't have been such a bad thing for him to take the contact on his terms and allow simplicity to be his ticket to re-selection.
That was advice his team-mates could have heeded as well. Get the basics right and go from there. At least there isn't long to wait for the chance to put things right.
New Zealand 28 (A. Smith 2, J. Savea tries; D. Carter 2 cons, 2 pens; B. Barrett pen) Argentina 13 (J. Leguizamon tries; N. Sanchez con, 2 pens).