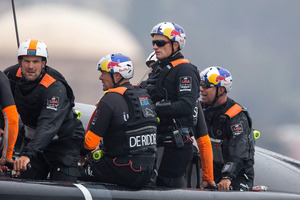 James Spithill is tired. He's got a big zit erupting out of his ginger stubble, he looks drawn and it's not hard to see the pressure is telling on him.
It's late August. He's turned up to do a media turn at the 34th America's Cup and does so in his usual ebullient style. He's smart, he's got a bit of star quality going on and he answers quickly, intelligently.
He's what journalists call good copy. He replies to questions fully, colourfully. There's a lot of personality going on. Some say the 34-year-old is a bit too much of a rock star but, Dennis Conner aside, sailors are maybe a little too used to their skippers being measured and thoughtful, wily old sea dog types.
You can see where they are coming from, though. This is a line from Spithill's biography on the Oracle Team USA website: "Jimmy boxes with fast hands, serves a fast ball in tennis, needs horsepower under his right foot and, on a race boat, likes to 'send it'. Jimmy is the America's Cup's youngest-ever winning skipper.
Going fast is what he does."
Get the picture? He's an action man. He's one of those characters who could never sit on a beach towel and read a book. He's got to be off somewhere doing something. Preferably quickly.
Most of us scratched our heads when Oracle were building up to the Cup by training in San Francisco Bay and Spithill was in Hawaii. He competed in the Molokai-2-Oahu open water paddle race on a stand-up paddle board. He took a back-breaking six hours to do the 32 nautical miles of ocean between the islands. His AC72 could have done it in about 40 minutes.
"It was the last thing I could do to get out of my comfort zone and test myself before the America's Cup," Spithill said at the time. "It reminded me a lot of an ocean race in sailing where, at the start there's a lot of mayhem and spectators, then instantly you're on your own. It was a beautiful bit of water and a great mental test."
Back at the media turn, Spithill can't resist a dig. Asked what he was able to conclude when he and Team New Zealand chanced upon each other and went at it on an unofficial downwind run (before Team NZ broke off and headed for Alcatraz), Spithill says: "It was pretty tough [to draw any conclusions]. Every time we get near them, they just run away. So it's hard to read too much into it."
He didn't need the "run away" bit. He could have stopped at not being able to reach a conclusion. But he needed to issue the challenge; to challenge them so they'd challenge him.
He's not a huge man, probably about 1.89m. He's a ginger (pronounced ging-a); he's gym and sailing fit, taut as a bow string, biceps tight. He's not the biggest in the Oracle camp but is reputed to be one of the strongest. The bloke with the callipers measuring body fat probably has a tough time.
Oracle CEO Sir Russell Coutts says Spithill's mental toughness convinced him he was the guy to take the torch of success in the America's Cup. That's a compliment coming from Coutts who has built a reputation on making the right decisions in the cauldron of international sailing and the America's Cup in particular.
Famously intense and driven, it's said Coutts has recognised a kindred spirit in Spithill. He's usually the last one in the gym, doing the extra work that will get him ahead.
Doing less than "the other guy" has never appealed to him as a recipe for success, Spithill says. He charges hard, aggressively so, in the pre-starts which will be a key part of the jockeying for position at the start, the sprint to the reaching mark and then the important advantage of being first round the bottom mark.
He's needed that mental toughness. The international jury hearings into allegations of cheating through illegal modifications struck close to home - one of the boats involved was skippered by Spithill.
Dirk de Ridder, the Oracle wing trimmer, now excluded from the regatta, was a key part of his crew. Team Spithill won both the 2011-2012 America's Cup World series and the 2012-2013 version - before the modifications were found and Oracle retrospectively withdrew from the event, abandoning Spithill's title.
Throughout the weeks and days that the jury inquired into all this, there was a constant underbuzz of rumour and speculation. How could the changes that were made to the boat be made without the skipper knowing?
The jury even said it themselves. There was absolutely no hint of Spithill's involvement but, in talking about the illegal modifications made on Oracle boats, the jury says it seems "inconceivable" that boat riggers initiated these changes without the knowledge of managers, or the direction of sailors, if not skippers."
Yesterday, at the skipper's press conference before the match, Spithill is back in form. The tiredness is gone. He is pugnacious. The team will never give up, he says. They won't use the jury decisions as an excuse. He calls for US support for his team because he says his sailors are fizzing, ready to rumble, and they can feel the support when it comes.
"For me, when I look at this team, I see real strength," he said."We have our backs against the wall, we have been challenged and we are fighting for our lives right now.
"This is the team I want to be with. There is a real hunger and real purpose in this team because of what has transpired. They can't wait to get out there on Saturday - the boys are really fired up."
It's pure Spithill. He was beaten up by bullies as a boy. So he learned to box. The AC72 catamarans required some knowledge of aeronautics - so he learned to fly.
Spithill said he had moved on from his shock at the jury decision this week: "I think it is harsh to judge a team on the actions of some individuals. But, frankly, I have moved on. There is nothing I can do to change the jury decision and, anyway, we have one thing to focus on - getting out there and racing these guys."
Spithill was just 3-years-old when he had his first America's Cup moment, in 1983 when Alan Bond's Australia II prised the prize from US hands for the first time in the Cup's history. He says it was something that shaped his destiny; made him want to become an America's Cup sailor.
He was probably bound to become a sailor anyway. The family lived on a small island north of Sydney, near Pittwater. They were not wealthy and couldn't afford to buy the boats a young Jimmy needed to get into the sailing mainstream.
Spithill tells how he got his first boat: "It was on a junk pile. We used to have a clean-up twice a year; a barge would come round and there it was - sitting on the junk pile on the barge."
So he and his dad grabbed the little wooden boat, re-built it, sailed it to the mainland (with his dad chugging behind in an aluminium dinghy with a tiny outboard) and started racing.
Famously, the other kids sniggered when Jimmy's little wooden boat turned up; theirs were made of far more modern and sexy materials, like fibreglass. But Spithill won the race.
When he raced for Luna Rossa, the Italians called him "Jimmy Pit Bull" for his aggression in the pre-starts.
That's the man New Zealand's own hope and another driven sailor - Dean Barker - must confront to win the America's Cup.
For many New Zealanders, this feels like Barker's time. But not if the Pit Bull from Pittwater can help it. He's got a lot more than a little wooden dinghy behind him now and no one laughs at Jimmy Spithill any more.
Best of 17
Tomorrow
Race one, 8.10am
Race two, 9.10am
Monday
Race three, 8.10am
Race four, 9.10am
Wednesday
Race five, 8.10am
Race six, 9.10am
Friday
Race seven, 8.10am
Race eight, 9.10am
Sunday, Sept 15
Race nine, 8.10am
Race 10, 9.10am*
Monday, Sept 16
Race 11, 8.10am*
Race 12, 9.10am*
Wednesday, Sept 18
Race 13, 8.10am*
Race 14, 9.10am*
Friday, Sept 20
Race 15, 8.10am*
Race 16, 9.10am*
Monday, Sept 22
Race 17, 8.10am*
* If required