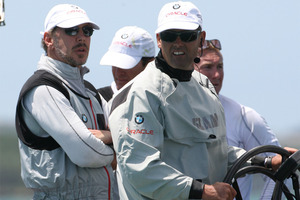 The backlash has begun. Oracle Team USA chief executive Sir Russell Coutts said he was "astounded" at the "outrageous" punishment by the America's Cup international jury and a lawyer for one of the sailors said the process was "completely unfair".
Coutts told the San Francisco Chronicle he thought the jury might have been swayed by the New Zealand media which "had a win out of all this".
A Herald on Sunday column from this writer last weekend was quoted in the Chronicle, particularly the section which advocated that the jury should "boot Oracle out of their own regatta. They are unlikely to do that. The Cup would pass automatically to Emirates Team NZ and would not be fought out on the water. There are all sorts of commercial, sponsor and contractural realities that will likely prevent that. Ethically, that's what should happen. It was cheating. Deliberate or accidental; institutional or the act of rogue elements - it doesn't matter.
It's cheating."
The lawyer, Sydney Luscutoff, said his client (the unnamed Sailor X, whose case was dismissed) and other OTUSA employees were accused in a completely unfair process, according to the San Francisco Chronicle. Luscutoff said two members of the jury conducted the investigations, placing themselves as prosecutors before helping decide the case themselves.
"It's utterly unfair and bizarre," he said.
Coutts said the punishment inflicted by the jury - two sailors banned (one for four races) and two members of the team's shore crew also excluded from the regatta - was "way beyond what it should be", according to the Chronicle.
"I'm astounded, to be honest with you, that they penalised the whole team for this," Coutts told the Chronicle. It set an 'outrageous' precedent for the future.
"Imagine an Olympic team and one member infringes a rule. Does that mean the whole team gets penalised?"
Of the five men implicated (one sailor was found to be in breach of the gross misconduct rule but was not penalised), Coutts said: "This was the first time they've been convicted of any offence."
He called wing trimmer Dirk de Ridder, arguably the best at his craft in the world, "one of the best sailors in the world. I have huge respect for him.
Coutts and OTUSA have been at pains to point out that the offences were committed without the knowledge of OTUSA management and neither he, general manager Grant Simmer, and skippers Sir Ben Ainslie and Jimmy Spithill were implicated in any way.