Halfback hoping likely link-up with first-five star ends rotating occupancy of No 10 jersey.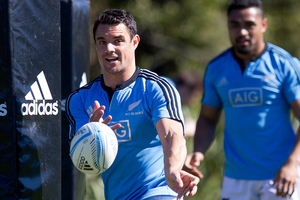 Halfback Aaron Smith has had his fair share of challenges lately in getting to grips with a revolving door of first-fives.
Think Aaron Cruden, Beauden Barrett, Tom Taylor and Colin Slade. To compound things this week as the All Blacks prepare to take on Argentina in Hamilton, he is likely to get another - Dan Carter. If so, and the signs yesterday were extremely positive that Carter has recovered fully from the calf injury which has kept him out of the first two tests of the Rugby Championship, it will be the first time the pair have linked since that catastrophic defeat to England at Twickenham in December.
Both Smith and Carter were replaced in that match, a comprehensive 38-21 victory for the home side who haven't been able to reach the same heights since, and the little Highlanders No 9 has neither good memories of it nor much to say about it.
"I didn't like that game," he said.
What it does reveal, though, is how much test rugby Carter has missed since late last year. A broken hand kept him out of the first two tests against France - he returned in the third in New Plymouth outside Piri Weepu, with Tawera Kerr-Barlow replacing him, but the Crusaders pivot was disappointed with his performance.
Having missed the two Bledisloe Cup victories over Australia in Sydney and Wellington, he will be extremely keen to put in a good shift at Waikato Stadium in what will be his 96th test. In his absence, Cruden, Barrett and Taylor have all filled in. They have done well too, but all have succumbed to the mysterious injury curse which appears to follow the No 10 jersey. A calf problem has done for Barrett too, with Cruden sidelined by a knee problem and Taylor badly bruised ribs.
This has left Smith hardly knowing whether he is coming or going.
"It's a bit of a bad thing," he said of the ever-changing combination. "I had it at the Highlanders as well, I didn't have the same 10 for longer than two or three weeks. You just approach it as it comes. We've had it a lot lately but I hope it stops soon to be honest."
Every player is different and that is often magnified in a No 10 who has to have a more advanced skillset than most. How vocal he is on attack and defence and what foot he prefers using to kick all have to be factored into a halfback's thinking.
"It's getting those combos right again," Smith said. "Obviously Dan likes it on the left side because he's a left-footer."
Both will be relied upon to set the tone against the Pumas, who will be looking to slow the All Blacks' ball down at every opportunity.
"That's something we've looked at and something we experienced last year in my first game against them [close victory in Wellington]. The weather didn't really help but their physicality is at another level. They're very good at that area with their body height and they're big men.
"We'll have plans around making sure our ball is good but sometimes it's all about what our ball carrier does," he said.
"If you run high, they love to fight. I'd say we're more into using our feet and power. We need to get that right. If we lose a contact that could slow our game down so there is a big emphasis on that.
"But it goes down to our skillset as well, if our skills and lines are right then hopefully we dominate the gain line and get our tempo going."
nzherald.co.nz
A look back at the last five encounters between the All Blacks and Pumas.
- APNZ