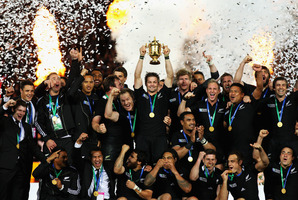 There's no doubt that New Zealand rugby is currently sitting at the fat end of the wedge. These are good times for the national game - maybe about as good as they have been since the last golden age in 2005.
Back then, there wasn't a cloud in the sky. The Lions tour brought a $25 million profit, not to mention a series victory that saw the coming of age of Daniel Carter, who was named IRB Player of the Year. There was a Grand Slam, a World Series Sevens title, a Super Rugby championship for the Crusaders and to cap the year off, New Zealand won the 2011 World Cup hosting rights. Provincial rugby appeared, albeit with no one poking around too hard, reasonably buoyant and there was moderate growth in overall playing numbers.
All that came to a crashing halt when the All Blacks were dumped out of the 2007 World Cup which may, or may not, have triggered the global recession. The perfect storm hit - public interest waned because of the World Cup débâcle and with petrol at $2 a litre, there was little disposable income in most households.
A handful of key players didn't fancy hanging around to try to make amends in 2011. New laws that made no sense were trialled here and nowhere else and it was probably no wonder that, with sponsorship dollars almost impossible to come by, a handful of provincial unions came to the brink of financial ruin.
But New Zealand has emerged out of that dark age and sits, for the time being, in a place of relative comfort and affluence. Just as the 2007 disaster was the catalyst for an implosion, victory in 2011 has driven the renaissance.
There's no getting away from the fact that the mood of the nation still swings on the fortunes of the All Blacks. Even the crassness of John Key's awkward three-way handshake with Richie McCaw and IRB boss Bernard Lapasset couldn't prevent most, maybe even all right-minded Kiwis from being unashamedly proud on October 23, 2011.
Victory that night at Eden Park was the clincher in persuading AIG to come on board as a major sponsor last year and it was also responsible for driving another slight increase in player numbers. As things stand, the NZRU has cash reserves in excess of $50 million, is on track to make a profit and has the rare distinction of four world cups sitting in the cabinet.
These trophies sit alongside the Chiefs' Super Rugby title and the Bledisloe. There was even the feel good redemption story last week of seeing Otago, the provincial union that was saved from receivership last year, bounce back to win the Ranfurly Shield.
On top of all that, a new collective agreement was signed last week which will see men in New Zealand cement their place as about the best looked after in the world game.
More importantly, it made provision to dramatically boost the standing of women.
"We are satisfied with where we are at," says New Zealand Rugby Union chief executive Steve Tew. "We are currently in possession of four world cups which I doubt many countries would be capable of achieving. We have got our balance sheet under control and the All Blacks continue to perform.
"We will be hosting the Junior World Cup next year. We have the World Cup in England in 2015, the chance to go to the Olympics in 2016 and the British and Irish Lions coming here in 2017. So if you need motivation to stay here and play rugby, it is there.
"There continue to be some challenges around the community game. Some clubs are doing things brilliantly and others are struggling and there are ongoing challenges with player numbers, particularly the teenage drop-off. But we continue to work in those areas."
By way of comparison, Australia would love to be remotely close to having just half of what New Zealand currently has. Australia has lost about $18m in the last two years, hasn't won the Bledisloe for 11 years, or the World Cup for 14.
The Irish are in a terrible financial state, the French might have money but they also have an infestation of foreign players in their domestic league which means on some weekends, there isn't a single French qualified No10 playing for any of the 14 clubs.
Wales have some great players but none of them actually play in Wales because their domestic sides are close to going under and even the Boks have considerable issues as was witnessed last week.
All those who have criticised the NZRU for granting sabbaticals to long-serving All Blacks should consider the alternative. South Africa have decided against the sabbatical route for senior players, but instead allow players to stay Springbok eligible if they shift offshore.
As a result of that, Bryan Habana (Toulon), Morne Steyn (Stade Francais), Juandré Kruger (Racing Metro), Gurthrö Steenkamp and Jano Vermaak (both Toulouse), have been released to play club games in France this weekend. Having been to Argentina last week, they flew to South Africa, then to France and will fly to Brisbane to play the Wallabies on Saturday if selected. Which they will be. Crazy.
"This is a unique situation and a once-off concession to these four French clubs," said South African Rugby Union chief executive Jurie Roux.
"Most of these players recently joined the French league and although we could've opted to keep them with the squad to prepare for the Australasian leg, we decided to adhere to their requests to allow them to return to their clubs for matches this weekend."
The New Zealand way of giving their senior players extended time off has to be a better policy - although definitive evidence of that will have to wait until the two sides clash in a few weeks.