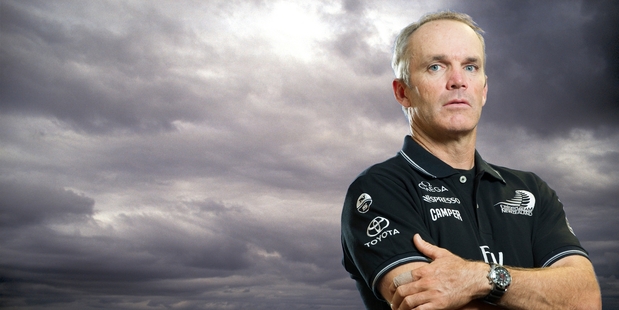 If Team New Zealand win the America's Cup, it will bring about an extraordinary trifecta for one of Australia's best-known yachting families - and will lodge Adam Beashel's name even more firmly beside that of heroic Cup-winning brother Colin and father Ken.
That trifecta (Ken and Colin are already Cup winners) is tied in with the 30th anniversary of Australia II's America's Cup win in 1983; many of the yacht's crew have been enjoying a reunion in San Francisco. They've relived the day when the Alan Bond-financed challenge shocked the Americans by becoming the first yacht and nation to take the Cup out of the USA in 132 years.
In a strange way, Australia II will be partly responsible if Emirates Team NZ win in San Francisco. The feeling in 1983 was that if the Americans weren't beaten then, they never would be.
Australia II lit the America's Cup fire in other bellies when they did the seemingly impossible. New Zealand launched its first challenge in 1987.
On board Australia II was Colin Beashel. Younger brother Adam is a key member of Team NZ.
Aussies? Yes, though the laconic Adam has a Kiwi passport and says he's been a New Zealander for more than a quarter of his life.
Winning the Cup may not mean more to anyone else on Team NZ than Adam - who's now 45 and has never won the America's Cup, being with the Kiwis through the horrors of 2003 and the close shave of 2007. A canny and committed sailor, Beashel is well known for his ability to spot wind on the water, allowing his team to benefit from "puffs".
Brother Colin, now 53, is remembered for one of the greatest displays of America's Cup bravery.
It's probably best to let the skipper of Australia II, John Bertrand, take up the story of a nightmare day which could have ended as badly as it's possible to do. Bertrand, a veteran of six America's Cups, retold the Beashel story in San Francisco, saying it was the only time he ever felt really scared at sea.
"It was off Newport, Rhode Island, and just before one of the races in the Louis Vuitton," Bertrand recalls.
"It wasn't a nice day. There was quite a lot of bump out there and we'd been having perennial problems with our halyards.
"Scotty McAllister, our bowman, was familiar with the problem; it had happened many times. So he went up the top of the main mast to sort it out. He was calling for the mainsail to be hoisted up, millimetre by millimetre, trying to get it to lock in but, at a critical stage, the masthead crane collapsed, breaking his arm."
McAllister passed out with the pain; he was pinned in place, the high winds buffeting him like a rag doll, sometimes against the mast. Those watching him from below were helpless. They knew they were watching a stricken, unconscious man get beaten to death.
"You have to realise what sort of day it was; the sea was pretty lumpy and the wind was strong; the mast was swaying all over the place, we were pitching and rolling. Scotty was 90 feet up and in a bad way. He was jerking round like a puppet on a string," said Bertrand.
"Sometime back in America' s Cup history they'd lost a bloke - in the 1920s, in the old J-class boats, I think. It was a bit similar; he'd got stuck up the mast and swung in and out like a pendulum. He was just bashed to death; they couldn't get him down quick enough.
"I'm not sure we knew about that then but I do know it was probably the only time I've been really scared. The life of one of the crew was in my hands, as skipper of the boat.
"Anyway, up steps Colin Beashel; he took his shoes off and said, 'Hitch me up, I'll get him'. He climbed, barefoot, to the top of that mast, just shimmied up there. He got to Scotty and got a line round him ... That line became the new halyard and we were able to get him down.
"When he came to, broken arm and all, Scotty just said: 'I'm okay; let's keep sailing'. But we had to get him off the boat with his broken arm, of course, and because it was before the race, we were allowed to replace him with Damian Fewster - who went on to marry Bondy's daughter."
Bertrand and Beashel and the rest of Australia II's crew (including Grant Simmer, now the respected manager of Oracle USA in San Francisco) went on to beat Dennis Conner's Liberty. Conner famously took it back in 1987 in Perth before Team New Zealand wrested it away in 1995.
Colin Beashel is now retired from competitive sailing after also representing Australia in six Olympic Games in the Star class yachts, winning a bronze medal at Atlanta in 1996. He is also a three-time world champion in other classes.
Father Ken was a two-time world champion in skiffs. A skilled shipwright, he worked on Sir Frank Packer's 1967 Cup challenger Gretel, and was also head of maintenance in the 1983 Australia II challenge.
So you can see the unfinished symmetry for Adam Beashel, a highly respected sailor who's won many international regattas but no Olympic medals or world championships.
But he can become the third member of this legendary yachting family to win the America's Cup.