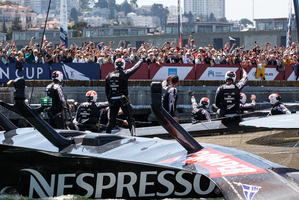 About half a million people have watched the America's Cup regatta so far with another 500,000 expected to turn out over the finals, according to Cup organisers - almost three times fewer than was originally touted.
That's the official count of those who have visited San Francisco's Marina Green and Piers 27-29, according to Stephen Barclay, CEO of the America's Cup Event Authority.
"Remember, we are only counting people at two official venues," said Barclay in one report carried in the San Francisco Business Times. "Countless more have watched," he said, referring to vantage points around the Bay such as offices, hotels and homes.
It's understandable that officials put the best possible face on such figures. This regatta has been sorely troubled at times, though there is no question crowds are building.
But it seems hopeful to be talking about the "countless" ancillary watchers when an event of much more magnitude in San Francisco - last night's closure of the Bay Bridge for five days - was still unknown to one in six San Franciscans.
A local TV news station also ran an item showing up those who did not know the bridge was closing in spite of a vast civic and media blitz, so it seems unlikely that the America's Cup has taken spectators by storm.
The economic report bandied about when San Francisco was chosen as the venue saw estimates fall from generating US$1.4 billion ($1.7 billion) in revenue to US$900 million. The Cup was also supposed to attract 2 million spectators, instead of 2.7 million. With the disclosure about 1 million are now expected, that figure has fallen almost by three times the original estimate.
This was also supposed to be the best televised America's Cup but, before the finals, many Americans were denied access to live coverage. One inhabitant of the America's Cup media centre held up her laptop and Skype programme to give American friends a view of the TV coverage in the America's Cup media centre - as the race was officially blacked out to the public in the area.
Viewership is rising, with one report stating that about 175,000 people watched delayed coverage of the most recent match on August 25 on NBC Sports Network. However, those figures are still low.