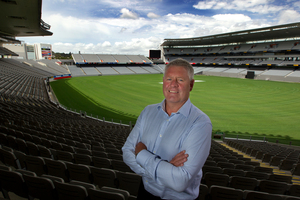 Sanzar wants to unveil the format for their next Super rugby deal by Christmas.
If the mid-year test window is shifted to July in 2016 as the New Zealand, Australian and South African partners hope, they will rework a competition to finish before that international timetable.
"We will know the format we are working towards but these things occasionally have something unravel as they go along," chief executive Greg Peters said.
"There will not be any more weeks in Super rugby, I can guarantee that. We are at the maximum point with 21 weeks which allows each team 16 pool games, two byes and a possible three-week run in the finals."
NZRU chief executive Steve Tew said the timetable for the new broadcast deal would ideally be agreed within the next few months and then work done on the broadcast sale process and plan.
"That is not without its complexities and then we will be in the market next year but in reality we are already talking to broadcasters," he said.
The inclusion of any new teams, like the introduction of the Rebels, would mean more time to sort out the details, said Peters.
"If we are going to add a new team, say from Argentina, then there would be a whole lot of work that needs to be done. But you will know the format we will be driving towards.
"Then that will be pitched to broadcasters and other commercial partners. We need that time not only from a rugby business point of view because there are massive dollar figures involved.
"There are a number of decision points and a joint venture is like a marriage, it requires compromises but we don't drive that, we try and steer and organise things."
Tew said there were a number of areas which were non-negotiable.
The tournament would not get any more room in the calendar and there was a push to reduce travel while maintaining a true competition.
If Super rugby expanded into new territories (like Japan, Argentina or USA) then there would need to be more conferences.
There were no updates on Ma'a Nonu's franchise for next year.