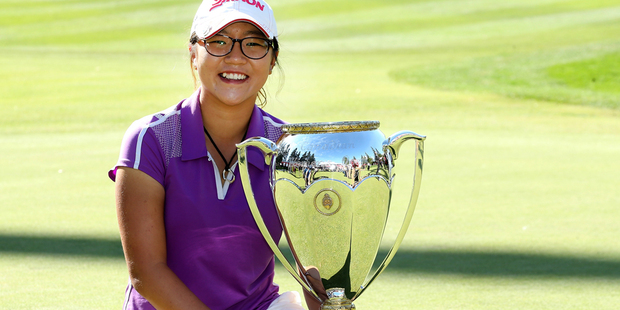 It wasn't long before the 'go pro' question was asked after amateur golf phenomenon Lydia Ko defended her Canadian Open title in dominating fashion in Alberta this morning.
About five minutes to be exact.
The 16-year-old outgunned the best professional players in the world once again with a stunning six-under final round 64 to finish on 15 under for the tournament, five shots ahead of the field.
Ko first made history at the event last year when she became the youngest winner in LPGA Tour history at the age of 15.
Because of her amateur status, the New Zealander leaves the event a winner but without the $US300,000 ($NZ384,000) winner's cheque for a second straight year as she became the first player since 1987 to defend the tournament.
But turning professional and worrying about the money that comes with it was far from the teenager's mind after winning her fourth professional event.
Ko said after the victory that today's performance doesn't change her decision on when to turn professional but she will need to do some thinking about her future.
"I've got some people above me like my mum and dad, they're the boss," Ko told the Associated Press.
"They're going to help me to make the right decision and to turn pro at what time. I think as I'm only 16 still, it's quite hard to make huge decisions. When I turn pro it's like a job. Money is all about it and everything like that, every shot counts. Yeah, I think my parents and New Zealand golf they're all going to have a say, and hopefully we'll make a really good decision on when I will turn pro."
Ko has now made 14 of 14 cuts on the LPGA Tour, 24 straight in all pro events, with six top 10 finishes and has given up approximately $US970,000 in earnings, with today's win following victories at last year's Canadian Open, the 2012 NSW Open and the New Zealand Open in February, but she bristled when asked about losing out on another pay day.
"I don't care. I don't care," Ko said. "I can say that a couple times more, if you want."
France's Karine Icher was the 'cash-winner' after finishing in second at 10-under.
"Yeah, no, not too bad for me, obviously,'' said Icher who took home the winner's $US300,000 purse.
"But I would love to win one one day, but it's nice for her. She deserves it. I'm sure she's a hard worker, and especially in Canada for her it's special.''
Ko's round today of 64 was three shots better than any other player in the field and tied for the best score of the tournament. Ko said it ranked as one of her best rounds on the tour.
"I'm pretty surprised, but I played some really good golf out there, so I was really happy about that," she said. "My goal today was to shoot 5 under and just play my own game. If somebody else shot better, then I can't do anything about it."
"I shot 10 under at the Australian Open this year and that was round one. That was great but today I was in little bit more of a pressure position so I was really happy with my 64. I got off to really good start and that helped my day.''
Ko began the final round one shot behind overnight leader Caroline Hedwall, who finished in seventh with a two-over 72, but took the lead with three straight birdies at two, three and four. Two more birdies at the sixth and eighth holes saw the young New Zealander move to 14 under at the turn.
Her fifth birdie of the day saw her go to 15 under before her only bogey of the day came at the par four 13th. She finished the tournament in style with a long birdie putt on the 18th hole.