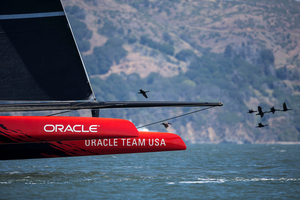 The trespassing protest by Oracle Team USA has cost them US$5000 ($6400).
The America's Cup international jury awarded costs against Oracle after they withdrew the protest - made when the US-based syndicate felt that arch-rivals Emirates Team New Zealand and Luna Rossa team members had crawled over their AC45s, perhaps looking for evidence of cheating.
Tom Ehman, the America's Cup director of external affairs (and vice-commodore of host yacht club Golden Gate), who was representing Oracle, decided to withdraw the protest, leaving seasoned America's Cup observers wondering why it had been made in the first place.
Yesterday, in a jury notice published after submissions on costs, some light was shed on that issue.
In seeking to avoid costs, Oracle said they had submitted the protest "mindful of the requirement to make timely applications", the jury notice said. "This was lodged when OTUSA had confirmed possible rule infractions from multiple sources within ACRM.
The application included the fact that OTUSA were continuing to verify the facts of the matter.
"OTUSA submitted that they 'interviewed an ACRM employee and the facts previously ascertained changed." The team sought the dismissal of costs as minimal jury time had been taken up.
In its ruling, the jury said: "It is to OTUSA's credit that they decided to withdraw the protest when they did." However: "the jury considers it just and equitable that OTUSA pays the jury's costs of the application and the preliminary hearing".
The jury are also presiding over an August 27 hearing to decide whether members of Oracle or the team itself have transgressed in allegations of cheating. AC45s were found with illegal lead weights installed - leading to speculation that Oracle sailors and/or shore crew could be sent home and/or the team docked points.
If either of those two things happen - or both - it would be one of the greatest scandals in the 162-year-history of the America's Cup.