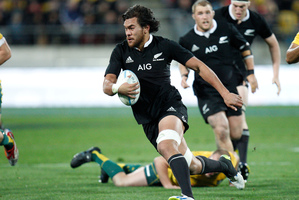 Another win, another number of plus points and a few more work-ons - victory in Wellington delivered much the same story as victory in Sydney for the All Blacks.
The big difference was the quality of the scrummaging and, eventually, the excellence of the lineout. The All Blacks were vastly improved in both areas - especially the scrums, where Australia were in desperate trouble by the second half.
"I think our set play in the end put them under a lot of pressure," said All Black coach Steve Hansen. "Even in the lineout, we started to dominate them.
"But what we did was make the most of our opportunities when we had them. We scored tries. They created opportunities but other than the intercept try, they didn't get one. We were lucky enough to be good enough."
Hansen wasn't overly effusive in his praise because the All Blacks were sluggish into their work and struggled to cope with the intensity of the Australians in the first half hour.
The annoying factor in that was that the All Blacks knew it was going to come. Given the nature of the defeat last week, it was a virtual guarantee that the Wallabies would be committed and aggressive in the opening exchanges.
"We knew they would be better at that," said All Black captain Richie McCaw about the Wallabies' work at the breakdown and collision points. "They were effective at disrupting our ball and I don't think we were as smart as we could have been in protecting our No 9.
"We didn't match them for intensity in the first part of the game."
It may have taken a while for the All Blacks to get on top, but that perhaps showed their patience and character and willingness to dig in and work things out.
It may also have had something to do with the relative lack of experience at No 10 and, to a lesser extent, blindside flanker. But assessed across 80 minutes, Hansen was delighted with the work of Tom Taylor and Steven Luatua.
"I thought there was less walking this week so he's obviously getting more comfortable with the speed and intensity," said Hansen of Luatua. "What we got was a continuation of last week.
"I thought Tom was outstanding given the circumstances in which he came into the team. He was under a lot of pressure because he's the son of an All Black. He coped well - all week we nursed him and he was ready to play by Thursday.
"He was the confident, mature young player we thought he would be. He was assured and everything he did and you can't ask for any more than that from a player making his test debut."