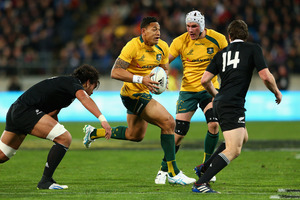 Both Julian Savea and Israel Folau were shut out of the opening Bledisloe Cup.
Play did not go their way as the All Blacks and Wallabies worked their strategies away from the big men.
Not much changed in the first half of the Bledisloe rematch last night in Wellington but there were enough moments to provoke some debate.
Folau has great talent, there is no doubt of that - his intercept try got the Wallabies back into the game in the dying minutes. The All Blacks are wary of how dangerous he can be with some room on attack.
The Lions discovered that in their first test in Brisbane when the big wing skinned them several times.
The Wallabies have also seen how Savea can make a mess of defences so both sides seem to be working on keeping any loose possession away from their side of the field.
Physically there is only a centimetre and a kilogram to separate the pair.
However, Savea has three times the test experience of Folau.
Folau was the first to get a taste but he was quickly tipped in contact by Savea and then strangely ignored by Scott Fardy when the blindside flanker carted the ball into contact rather than use his wing.
The first All Black raid saw Savea hurling his frame towards the left hand corner but Folau and a couple of buddies barred the entrance.
Then came errors which make coaches wince. Folau speared a low pass across the line and Savea was bounced by James O'Connor coming in from his other flank.
These are the little things which good teams nail and others miss.
Payback came quickly from Savea. He delayed a pass enough to create space for Ben Smith to resume the scoring run he had in Sydney.
When Will Genia tried to punt the Wallabies to safety it was Savea who ran back, claimed the ball on the full and kicked his side out of trouble. Was that the sort of work Folau would do? Not sure.
It's not in his instincts but the All Blacks were not giving him that challenge. They wanted to starve him of ball, keep him out of the test and frustrated.
Another strong piece of play came from Savea when he received the ball near touch, hemmed in by three tacklers but he veered infield to make the next play possible for his team-mates. That would have earned applause in the coaching box.
After the break Folau got one ball when he battered through several tacklers to the shadow of the posts and regained one kickoff with a tremendous leap.
These were a hint of his class, the sort of blessed intervention the Wallabies needed if they were to keep their Bledisloe Cup challenge alive. Gloomily for the visitors, those moments were too sparse.