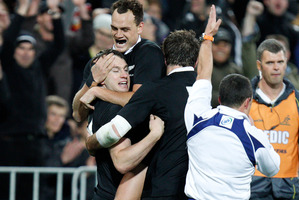 New Zealand 27
Australia 16
In case anyone didn't know before, they presumably do now, the All Blacks can play rugby.
They are the rugby equivalent of the great Dutch football team of the 1970s, seemingly full of genius ploys when really, their whole game is about supreme execution of the basics.
Australia, greatly improved technically and emotionally as they promised, couldn't really do much more than chase shadows and secretly admire what was coming at them. If they are smart, they will view it as one of the great nights of their rugby education: they had, after all, the best view of how this game should be played. The rest of the world would love to have the flow and rhythm of the All Blacks - to be able to turn loose ball into seven points as if they are some sporting derivative of Midas.
But the All Blacks can only play as they do because they have forwards like Steven Luatua, Brodie Retallick and Kieran Read who are so comfortable in possession. The whole pack, in fact, showed again this innate understanding of how to give and take a pass.
The build-up to Ben Smith's two tries would have beyond most other international sides. In the first, it was Luatua who clumped down the wing, held his line, then set the wing free after drawing the last man. It was much the same for the second, forwards oblivious to being forwards - hands out and heads up.
It may seem normal to Kiwis, but it's not. It may all look simple, but if it really was, plenty of other teams would be doing it. The Wallabies tried, showed the odd burst of promise, but at this level the accuracy has to be sustained: one pass off the mark and things fizzle.
That was the difference again - as it was in Sydney last week - between the two sides: the All Blacks were ruthless at converting half chances. Their pass and catch didn't let them down and the whole thing was underpinned by collective certainty about how they were trying to play. That, and a destructive set-piece. By the second half, the Wallabies were in danger of having someone seriously hurt in the scrums - especially on their put-in.
The Wallabies were toast when it did - buckling, bending and generally not being overly fussed about where the ball was at that point. No one was too sure about the new laws last week - they are now.
The All Blacks got their rewards for being stronger, technically better and mentally tougher.
They also got their rewards for working harder, smarter and quicker at the lineout. They weren't perfect - but the important thing was that there was a supply of clean ball off the top that the backs could work from.
It all made life moderately easy for new cap Tom Taylor who played pretty much as expected. His first kick-off was nervy - a kind of poorly hit mid-iron off the first tee just to get away from the clubhouse. But his second touch saw him coasting through the Wallaby backline and he was steady from there. He appreciated he didn't need to too much himself and his raking kick 10 minutes from time when he found 60 metres in a clearance effort was a sign that he was feeling a level of comfort.
Aaron Smith, hardly an old hand, played like one. He took on much of the tactical directing, kicked well, passed well and ran well, while Ma'a Nonu, albeit a touch erratically, was always there to smash it up and take the pressure off.
There was also the unexpected and frequent presence of both Ben Smith and Julian Savea playing off Taylor's shoulder. Twice Smith blasted through at second receiver - the second time adjudged to have been from a forward pass. That they were able to pull off the same move twice said plenty about their timing, movement and judgement and just as much about the Wallabies' inability to live with the pace and read what was happening in front of them.
They will have to wait another year now before they can win back the Bledisloe, but they will have plenty to take into the Dunedin test.
New Zealand 27 (B. Smith 2 tries; T. Taylor con, 4 pens; I. Dagg pen)
Australia 16 (I. Folau try; C. Lealiifano con, 3 pens).