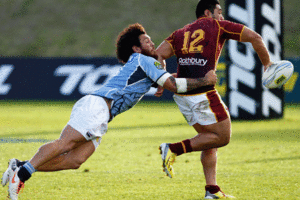 Northland 13
Southland 9
Northland picked up their first win of the ITM Cup, edging Southland 13-9 at Toll Stadium today in a game both sides probably deserved to lose.
The home side were the best of a bad bunch as the two teams played to their championship pedigree, with Ben Seymour scoring the game's only try midway through the first half.
Southland controlled much of the contest but were wasteful whenever they managed to gain good field position. The Stags are still without a try from two games in this year's competition and, judging by today's evidence, that could very well continue next week against Taranaki.
After almost stealing the Ranfurly Shield from Waikato in week one, Northland regressed badly and were lucky to emerge with four points. The Taniwha were under the hammer for much of the final 10 minutes and appeared rightly relieved when the final whistle blew.
Both sides beset by rudimentary mistakes throughout the game and the even the only try came from an error, with Seymour picking off a loose pass from John Hardie to decide the contest.
Rupeni Caucaunibuca, in his first game for the province in a decade, showed a few glimpses of his glory days and some silky running in the opening half looked to have handed his side a second try, but his hand off to Whiria Meltzer was deemed forward.
Despite ceding the best scoring opportunities, Southland dominated much of the game in terms of territory but constantly failed to apply the finishing touch, exemplified before the halftime break when a prolonged period of possession inside the Northland 22 came to nothing.
Southland's toothlessness was again on display early in the second spell when Cardiff Vaega shrugged off several tackles to get near the line, only for Marty McKenzie to shovel a pass over the sideline when the Stags had numbers down the right.
Following that brief burst of excitement, the second half settled into the same uneventful pattern which plagued the first, with Scott Eade's third penalty narrowing the deficit to one.
With 15 minutes to play Eade missed a tough shot at goal which would have given the Stags their first lead, and the first five wasn't the only one to err. Southland continued to enjoy the majority of the ball in the latter stages but were continually undone by mistakes, with Seymour's second penalty providing Northland a bit of breathing room.
Northland 13 (Seymour try; con, 2 pens)
Southland 9 (Eade 3 pens)
HT: 10-6
- APNZ