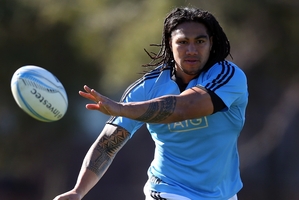 As Sean Fitzpatrick rampaged through his All Black years it seemed inevitable he would break into the 100 club.
He was the Iron Man to follow Pinetree into All Black legend, someone who added extra oomph to the concept of competitive. He never backed down, he was rarely injured, he was never beaten, he just got more determined.
He exasperated all his opponents and many whose ambitions to be an All Black were blocked by the rugged hooker. But as 1997 drew to a close so did Fitzpatrick's career because of a knee injury. The great man was forced to call it quits eight short of a century of tests.
Richie McCaw claimed the honour of being the first All Black to the magic three figures at the 2011 World Cup and two games later Mils Muliaina hit his target but fell out of the tournament and test rugby with a shoulder injury. Keven Mealamu joined the club last year in Brisbane.
The Wallabies are back in the All Black sights tonight in Wellington and loosehead Tony Woodcock is set to be the fourth All Black admitted to the famous century club. Think about the scrums he and Mealamu have put down in their careers, how many carcasses they have shifted at rucks, mauls they have driven or defended let alone their other duties. And the cauliflower ears, aching backs and screaming neck muscles.
So who is next in the All Black frame to test that same milestone?
Daniel Carter is closest, hovering on 95 tests but having to deal with a few muscle strains until he can resume his push for the rugby summit before his break kicks in at the end of the season.
There are nine tests left after tonight's Bledisloe Cup rematch and while Carter may go to Japan on the end of year tour to satisfy some commercial needs, he is unlikely to start that test.
So five from eight may be his equation to tick over the ton before his recess.
Three others in the squad may have thoughts of joining the special group but Ma'a Nonu, Andrew Hore and Conrad Smith would probably need to last through to the 2015 World Cup. Nonu has played 80 tests, Hore 77 and Smith 70.
Nonu is 31, Hore is rising 35 and Smith, who is just shy of 32, is taking his break later this year. Of that trio he has struggled the most with injury while Ben Smith is looming more and more as a replacement.
The selectors are looking to take one senior hooker and several deputies on tour to Europe so the next few months will tell them plenty about the durability of Mealamu and Hore.
Hore damaged some ribs this season but still looks strong test stock while Mealamu has battled recurring calf problems.
The enigma is Nonu, the man without a Super 15 home or much form in that series, who is extremely reliable in midfield for the All Blacks. They need him because the talent pool is not deep although any return from Sonny Bill Williams would sort that out and challenge Nonu even more.