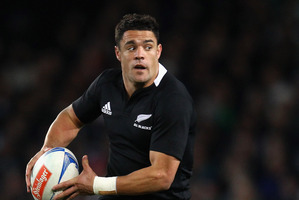 Reports are sketchy about a baby wrapped in swaddling clothes found in Southbridge in early March 1982.
Many All Black disciples might attest to that fable as they have continued to watch the peerless Daniel William Carter decorate the black jersey for a decade.
Test match viewing has been interrupted this season because Carter cracked a bone in his right hand and missed two of the three June clashes with France before he strained his left calf in the practice match for the Rugby Championship.
Since Carter graduated to the All Blacks, 10 others, including Tom Taylor on debut tonight, have worn the black five-eighths jersey.
Taylor comes with strong rugby bloodlines and while he has played at fullback or in the midfield this season like his All Black father, Warwick, most of his rugby apprenticeship has been in the No10 jersey.
His 90 per cent goal-kicking success rate was a huge tick for the selectors and reinforced the mental strength and ability the panel felt Taylor had for test duty.
"We've got no problem having to upskill him, he's got enough skills of his own," coach Steve Hansen said.
Taylor had no positional preference and had played five-eighths most of his life and had only diversified in the past few years. Now, like Carter when he made the All Blacks back in 2003, Taylor is starting to chip away at the establishment.
When Carter came into the squad, Carlos Spencer and Andrew Mehrtens were guarding the role as Carter worked alongside them before the handover was arranged on the 2004 end of year tour to Europe.
Since then, injury, rest, selectors' curiosity and a sabbatical have given Luke McAlister, Leon MacDonald, Nick Evans, Stephen Donald, Mike Delany, Aaron Cruden, Beauden Barrett and Taylor their intermittent chances.
Before Carter appeared, the All Blacks would have been delighted to have started a number on that list while they would have been first-choice selections for any other nation.
It's just that Carter has spoiled us, every other aspiring test five-eighths has walked in the champion's shadow since he started as All Black pivot against Italy at Stadio Flaminio in late 2004.
The All Blacks are still blessed with Carter but the doubts are expanding about his future. The "red flag" athlete, as Steve Hansen described him, is heading for a six-month sabbatical once he finishes this season.
Carter may recover to front against Argentina in a fortnight and that would push his tally up to 96 tests with eight more left on the All Black programme through to the end of the year.
Then he will set about a six-month programme to rehab a frame that has battled in recent years with cumulative injuries. Ankle, hamstrings, groin, calf problems - they have appeared more frequently as he works through the tail section of his career.
What do those who covet the No10 jersey have to live up to, what separates Carter from other five-eighths?
In essence it is the rugby computer he uses to control a match in partnership with a wide array of expertise and a body committed to the game.
Without his courage, all Carter's skills would not hold up. But he stays in the frontline, he is defiant down his tackling channel and is there to pounce when the chance of a counterattack happens.
As he waits for phaseplay or from set piece, his senses are scanning the field and thinking several steps ahead for the moment when a strikeplay will be most effective. His instincts are about finding space through plays that rearrange defences which have become so strong in modern rugby.
Carter will put others into space but if defenders drift he will attack with the speed and timing which can rip the inside lanes apart. Then there are the variations with his left boot, the bomb, grubber, kick for touch or punch into space. Not to mention the goalkicking which saved the All Blacks a number of times.
While many five-eighths have been brought up on a diet of programmed plays, Carter will use his intuition and the playbook. Experience and feel for the game allow him to make those calls.
Anyone looking at Carter will see an unflustered five-eighths who exudes control and patience. It is a tough template for the next crew - Cruden, Barrett, Taylor and Colin Slade - to match but a great model for them to aspire to.