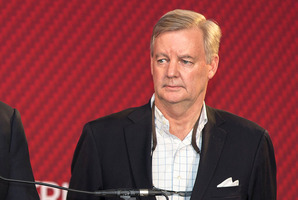 In PR terms, Oracle Team USA's withdrawn protest has been a bit of a blooper.
Their protest against Team New Zealand and Luna Rossa for trespassing on their AC45 yachts came to a puzzling end when there seemed to be some confusion about whether Oracle was withdrawing the protest or asking for a continuance - more time to gather its evidence.
Tom Ehman, the America's Cup director of external affairs (and vice-commodore of host yacht club Golden Gate), who was representing Oracle, decided to withdraw the protest, according to the jury ruling published yesterday. That left seasoned America's Cup observers wondering why the protest had been made in the first place.
According to the jury notice, Ehman said Oracle was seriously disturbed about the alleged incident. The door is still open for the Americans to protest under a different rule. However, the PR impact of that would seem to be highly negative.
The America's Cup international jury are also presiding over an August 27 (NZT) hearing to decide whether members of Oracle or the team itself have transgressed in allegations of cheating.
AC45s were found with illegal lead weights installed - leading to much speculation that Oracle sailors and/or shore crew could be sent home and/or the team docked points in the America's Cup match.
If either of those two things happen - or both - it would be one of the greatest scandals in the 162-year-history of the America's Cup, probably since the Dunraven cheating storm of the 19th century.
So the PR value of potentially antagonising members of a jury who will also be sitting on that case seems negligible at best, even if it can be taken as read that the jury are highly professional and know how to view cases independently.
Allegations that Team NZ had trespassed to gather information were dismissed by the team as "laughable" yesterday. Team NZ said Oracle was using the protest to confuse issues before the jury hearings on August 27.
There have been rumours throughout America's Cup and sailing circles that there may have been more allegedly illegal modifications to Oracle AC45s than has come to light so far.
It may be that Oracle thought some Italian and New Zealand team members had been crawling over their boats looking for evidence.