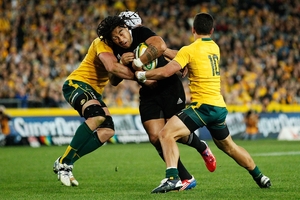 Whatever Ma'a Nonu supposedly is or isn't off the field, there can't surely be any confusion about what he is on it.
In what is pretty much standard procedure these days, Nonu delivered a world-class performance in Sydney. It was yet another reminder that however corrosive he can supposedly be within his Super rugby environment, it's not a patch on how destructive he can be when he plays for the All Blacks.
His performance was yet another reminder of how plainly silly it is that he's currently the unwanted man of New Zealand rugby. Maybe Jamie Roberts of Wales can occasionally be as effective as Nonu was, but really, the 31-year-old is without peer as a direct running midfielder.
Nonu's value is impossible to overstate. Test football is a game of clawing the inches. In the midfield, an inch behind the gainline and the defence owns the situation. Get an inch over it and the attacking side can build their momentum and inevitably take control of the game.
That's what Nonu once again made look effortless. When there wasn't much on; when the All Blacks just needed someone to straighten up, go forward and recycle, Nonu was the man who delivered.
"Ma'a Nonu is a person I would like to mention," said All Black coach Steve Hansen. "He struggled all week with an ankle injury and probably played one of his better games for the All Blacks and he's had some very good ones."
How can Nonu be such a placid and positive influence with the All Blacks - earn rave reviews for his attitude and behaviour - and then deliver a performance of that calibre if he's such an enfant terrible?
The Hurricanes can continue to be obstinate about their former star; they can stick to their belief that the negatives to welcoming back Nonu outweigh the positives. But that argument will be impossible to swallow this time next week if Nonu, on the very ground to which he wishes to call once again his home, plays as well as he did in Sydney.