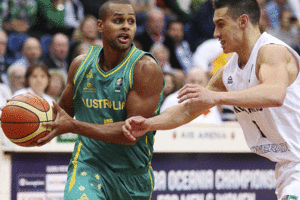 Both New Zealand basketball teams were soundly swept by Australia today, but only for the Tall Ferns did the defeat come with severe consequences.
The Tall Blacks hung tough for the first half before going down 76-63 in Canberra, while the women's side lost by 18 and, as a result, failed to qualify for next year's Basketball World Cup.
The Tall Blacks have already punched their ticket for the men's tournament, leaving little but pride on the line for today's game, but they failed to earn much of that.
Similar to their 70-59 loss in the opening encounter, the Tall Blacks started strongly but were overwhelmed as the game entered its latter stages.
Where a fourth-quarter collapse doomed their hopes of grabbing an upset win on the North Shore, today it was an anemic third period from their offence which determined the result.
Holding a six-point lead at halftime, the Tall Blacks would have been determined to avoid the mistakes made in game one, when Australia's pressing defence proved too hot to handle and New Zealand's own defensive assignments faltered.
But the Tall Blacks managed only seven points in the third quarter as Australia, led by Patty Mills, pulled away. The San Antonio Spurs guard had almost twice as many points in the period than the entire opposition, draining two three-pointers among a 13-point haul.
Such was his dominance that, after wrestling the ball away from Everard Bartlett and breaking down court, Reuben Te Rangi resorted to dropping a shoulder and sending Mills sprawling to the floor.
It probably put a smile on the faces of Tall Blacks fans, but they had little else to shout about. The cavalry will come for New Zealand at the World Cup _ with Kirk Penney and, hopefully, Steven Adams set to boost the lineup _ but the side is still lacking a pure point guard.
But Nenad Vucinic can take heart from how his young side handled a high-power Australian roster _ until, that is, they badly fell away.
Meanwhile, the Tall Ferns had a mountain to climb if they wished to reach the World Cup following their 16-point defeat in Wednesday's first game. And the towering figure of Lauren Jackson ensured New Zealand barely made it past base camp, losing 84-66.
After leading all scorers with 22 on her first trip to these shores, Jackson was slightly less prominent in the box score in Canberra but no less influential. Her 21 points and seven rebounds were only a part of her overall contribution as Australia produced a huge second half to overcome what was initially a spirited challenge.
The Tall Ferns led late in the second quarter and trailed by only five at the major break, but the Opals steadily turned the screws and extended their advantage as the game wore on.
As she was in her side's first loss, Toni Edmondson was again the stand-out for the Tall Ferns, draining a game-high 26 points, while Micaela Cocks chipped in with 25 points and nine boards.
- APNZ