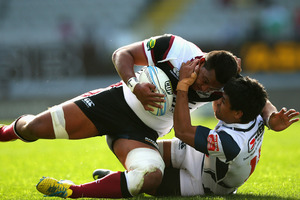 Auckland 27
North Harbour 20
Both Auckland and North Harbour were happy with elements of their season-opening ITM Cup clash but there was one facet of the game which satisfied no one.
Auckland's 27-20 victory at Eden Park this afternoon gave them five points from a game in which they were some way short of their best, while Harbour recovered from a disastrous start to emerge with credibility, if not a rare victory.
The scrum, however, dominated discussion following the game, with both forward packs struggling to adapt to the new laws, leaving much of the match disrupted by regular resets.
The visitors were probably the benefactors from that disruption, with Auckland's fast start curtailed and their 22-3 lead slowly eaten away. It was a credit to Harbour that they were able to claw their way back into the contest, and last season's cellar dwellers even snatched a point courtesy of Raymond Niuia's late try.
Before then the match had long been mired in sloppy scrums, and the inertia produced when the forward packs came together spoiled what was at times a spectacle of running rugby.
"If I was a spectator sitting there I'd be very frustrated," said Auckland coach Wayne Pivac. "I was frustrated as a coach."
Exacerbating the issues surrounding the new 'crouch, bind, set' directive was the time taken from the moment a scrum was awarded until the ball was fed. Perhaps it was first-game fatigue, but neither forward pack, nor referee Sheldon Eden-Whaitiri, appeared in particular hurry to restart the game.
"The thing that frustrated me was the amount of time it took to get the scrums going, from the time the whistle went to actually getting the two forward packs together and get the ball able to be presented into the scrum," Pivac said. "That seemed to me to take forever."
While Auckland's tempo - a key to their three-try salvo in the opening half hour - was considerably slowed by the stoppages, one man with a better view than most blamed the home side for the lack of urgency.
Harbour hooker James Parsons, one of the stand-outs before being forced from the field with a head knock, thought the opposition were at fault for many of the problems, but he remained an advocate of the new laws.
"It was frustrating as a player," Parsons said. "Auckland were talking about what they were going to do rather than setting up for the scrum. I was in Sheldon's ear trying to hurry them up. We wanted to get in there and get the job done.
"We've got to make [the scrums] work for us. We were happy with them in the first 40 but, as fatigue sets in, guys get lazy and that's probably why they were collapsing."
Parsons will be a key figure if Harbour are able to arrest the slide that has seen them earn just three wins in the last two seasons and, although they offered little in attack, the visitors were resolute when Auckland threatened to run riot.
And with just one uncoverted try to show for the second spell, Pivac will be looking for vast improvements when Auckland travel to Manawatu next week.
"I guess we're happy to have got five points out of the game but we didn't play well," he said. "But it's a start and something to build on."
Auckland 27 (Visinia, Weepu, Prattley, Braid tries; Hickey 2 cons, pen)
North Harbour 20 (Parsons, Niuia tries; Elrick 2 pens, 2 cons)
HT: 22-10
- APNZ