Wynne Gray selects his strongest All Blacks side from players who donned the black jersey since 1990.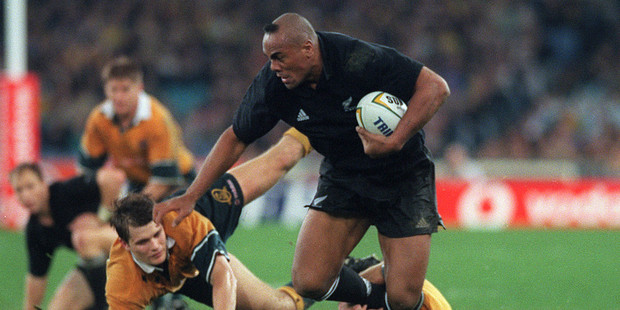 Tim Horan and Nick Farr-Jones broke the mould when they dived into the chilly Wellington Harbour in the early hours of August in 1990. It was their way of celebrating after the Wallabies ended a five-year unbeaten run for the men in black.
They were two fine Wallabies among a host of rugby class on show at Athletic Park. Would they make a best of Wallabies side since and what about the All Blacks' finest since that day?
The class is evident when you cull some of the names but the advantage sits strongly with the All Blacks in the depth of talent. They have far more candidates for each position than the Wallabies.
But this will be a XV against another XV, a scrap to the end, no substitutes.
Some high quality players turned out for only a few seasons but they delivered repeat excellence. Those standards won out in tight votes against others with longer careers. Christian Cullen or Mils Muliaina at fullback for the All Blacks? See the dilemma and that's without Israel Dagg, John Timu, Glen Osborne or Leon MacDonald.
Many of these choices will be a flip of the coin, a personal recollection, a preference for exceptional against superb.
Cullen's outrageous attacking gifts where he rarely broke stride to sidestep defenders was awesome entertainment. The man defended like a sentry and only injury could cut him down. Muliaina was so meticulous, so downright mistake free as pro rugby surged on. It was remarkable but this time, he will have to watch from the grandstand.
Joe Rokocoko, Timu, Va'aiga Tuigamala and Sitiveni Sivivatu were wondrous men on the left flank, all fit to challenge any best-of sides.
But the King Daddy, the giant strike weapon everyone feared for many reasons was Jonah Lomu. Power, pace and balance, he had them all and was a breath-taking presence from the time he lit up the 1995 World Cup.
Over on the other side, Jeff Wilson, Joeli Vidiri, Cory Jane, and Doug Howlett have laid down many five-star performances for the men in black. But the bloke who set the template none of them quite reached was John Kirwan. Fast and powerful, with loads of attacking intent, JK brought extra sting to any side he was in.
In the middle of that firepower we need a centre, someone who sizes up plays with the precision of Conrad Smith or Joe Stanley and makes it happen with the ruthless thrust of Frank Bunce.
That composite is Tana Umaga, who inhabited the wing and second-five too, but whose brutal defence, improved distribution and crunching attack edges him past the other senior champions.
As Ma'a Nonu clicked over 80 caps last night, he added more numbers to his selection claims. He has been a superbly powerful cog in the line but the ructions in his career (remember, he missed out on the 2007 World Cup) and the Super 15 dramas of the past few seasons count against him.
Aaron Mauger had delightful skills without the heavyweight crunch, while Sonny Bill Williams began to show his potential before he skipped out.
The most balanced, though, was Walter Little, as tough and dependable as you want but with that extra pizzazz, feel and attacking vision which made him such a key man in 50 tests and 25 other games for the All Blacks.
First five-eighths and backline maestro? Maybe Grant Fox or Andrew Mehrtens, who delighted us with their techniques, or Stephen Donald, who kicked the winning goal in the lastWorld Cup final?
It has to be Daniel Carter, the mercurial playmaker who has had such a weighty influence in the All Blacks for the past decade.But who serves him? Justin Marshall, Byron Kelleher or Piri Weepu?
Marshall was the most competitive in an abrasive career but Graeme Bachop had the bullet pass which the current selectors love about Aaron Smith's game. Bachop was also quick when those skills were a dynamite addition to an already gifted backline in the mid-1990s.
Take your pick from a thousand loose forwards, use them where you like, but for me, a Zinzan Brooke, Richie McCaw, Michael Jones combination, in their pomp, had everything you need. Hard work, flair, power, adventure, rat cunning and glorious skills.
Need there be more? Tough on Kieran Read, Alan Whetton and Josh Kronfeld, who would be the next arrangement. Then there's Jerome Kaino, Jamie Joseph, Jerry Collins, Reuben Thorne, Rodney So'oialo and more. Rugby riches.
Hard man and lineout supremo, two jumpers or a composite are the challenges at lock. Ali Williams for a spell had all the skill, accuracy and courage and Sam Whitelock is imposing that same template. Gary Whetton, Ian Jones and Chris Jack were gifted but not always consistent, while Brad Thorn and Robin Brooke were rugged men. With his extra skill and lineout smarts, Brooke makes the cut.
Binding it all together is Steve McDowell, Sean Fitzpatrick and Olo Brown. There were honourable mentions for Carl Hayman, Craig Dowd, Richard Loe, Tony Woodcock, Keven Mealamu and Andrew Hore.
Across the Ditch, the deliberations are in. The phone conference line went dead but we heard the side before the selectors began bickering about whether Farr-Jones, George Gregan or Will Genia should have been at halfback.
They were also growling about the omission of Jason Little, Owen Finegan, Michael Lynagh, Willie Ofahengaue, Jeremy Paul and Tim Gavin.
Best since 1990
All Blacks
15. Christian Cullen
14. John Kirwan
13. Tana Umaga
12. Walter Little
11. Jonah Lomu
10. Daniel Carter
9. Graeme Bachop
8. Zinzan Brooke
7. Richie McCaw
6. Michael Jones
5.Ali Williams
4. Robin Brooke
3. Olo Brown
2. Sean Fitzpatrick
1. Steve McDowell
Wallabies
15. Matt Burke
14. David Campese
13. Stirling Mortlock
12. Tim Horan
11. Joe Roff
10. Stephen Larkham
9. Nick Farr-Jones
8. Toutai Kefu
7. George Smith
6. Simon Poidevin
5. John Eales
4. James Horwill
3. Patricio Noriega
2. Phil Kearns
1. Tony Daly