Aaron Cruden is widely expected to be Dan Carter's understudy but there might be a better option, writes Gregor Paul.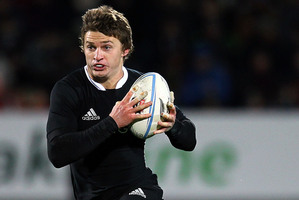 The next 12 months may not pan out the way everyone expects in regard to the All Black first-five pecking order.
The only certainty is that Daniel Carter will be unavailable in June next year and will most probably, if recent times are anything go by, be plagued by niggling injuries until he takes his sabbatical in December.
The path is becoming increasingly clear for Aaron Cruden but he'd be advised to keep an eye on Beauden Barrett. Cruden is an easy piece to place in the All Black jigsaw. Barrett is not and it's that fact which makes the picture a little cloudy.
Cruden is the automatic replacement for Carter at the moment - and these days it happens so often and so seamlessly, there is almost an element of well orchestrated routine to it.
With more than 20 caps, Cruden has a level of comfort in the test arena. By the World Cup, he will probably have 30-plus caps and he'll be ready, willing and able to do a good job. But what about Barrett?
The All Blacks are running with three first-fives for a reason: one of them - Carter - is prone to injury and without him, Barrett has to take a place on the bench which means he has to be just as trusted as Cruden.
At the moment, he's probably not - only because he hasn't had the same number of opportunities. Everyone can see when he plays for the Hurricanes he's composed, deceptively quick, well equipped with a kicking game off either foot and has all the necessary confidence to put it together.
But he needs to play tests - and that's the big question ... when will that happen? Game time is everything, as Cruden knows. His big break came three years ago in Sydney, when he won his first start. It was a tough night for him and yet he can see how it was the making of him. The apprenticeship has to be served in the big arena.
"Looking back to that game, it has helped me become a better player," he says. "Now I'm really comfortable in this environment and in this role. When I first came into the team a few years ago, I thought I had to do a little bit extra and change my game. Since I have been here for longer, I have realised you don't have to change much - just focus on your role."
If Barrett is going to be ready by the World Cup - just as comfortable and capable as Cruden - then he needs to play more than he has. And that's when the battle between these two will become intriguing because Barrett may deliver performances that are impossible to ignore.
He's a bigger athlete, more robust and arguably more rounded. He looks a more natural fit for test football, his major strength being his boot and tactical patience.
Cruden is good but maybe Barrett will be better. All Black coach Steve Hansen really needs to find out more about the youngest of his five-eighths. Barrett needs his chance to grow and close the gap on Cruden; to establish if he's the player many think he could be.
He can't do that playing only for the Hurricanes. He's going to have to do it wearing black to see if he can cope with the pressure and intensity. So maybe it's wrong to feel that with Carter likely to be only a bit-part presence in the next 12 months, Cruden's time has come.
Maybe it's Barrett who will be the bigger beneficiary of Carter's absence. Maybe it will be Barrett who will take the biggest leaps forward between now and this time next year. What appeals most about that scenario is that it will make the All Blacks virtually immune to injury-related dramas with their playmakers, something Hansen, who saw first hand the first-five mayhem of the last World Cup, is keen to rectify by 2015.