Eight-try rampage gives Counties Manukau horror start to provincial championship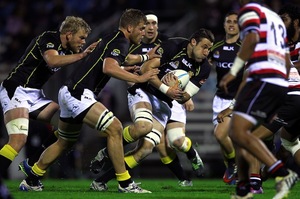 Wellington: 55
Counties Manukau: 16
Wellington's fringe and overlooked All Blacks were to the fore as Tana Umaga's Counties Manukau suffered a nightmare start in the provincial rugby premiership at Pukekohe.
Counties Manukau is the home of running rugby but it was Wellington who went on a terrific eight-try rampage in a 55-16 victory.
While Wellington stamped themselves as contenders, the Steelers disintegrated and disappointed captain Fritz Lee said: ``We're in the premiership now and we've got to play and act like we are.''
There was a gulf in class on the team sheets at Pukekohe, with Wellington boasting Jeremy Thrush, Victor Vito, Dane Coles, Jeffery Toomaga-Allen, Brad Shields and TJ Perenara from the wider test scene. The Steelers would have hoped an early season clash at home and their attack-minded Chiefs might give them an underdog's chance, but the game was virtually beyond them at halftime.
Counties Manukau relied on some vigorous individual running to make any headway, especially from halfback August Pulu who had to launch a few rescue acts behind a scrum that was on the back foot. Wellington had the cohesion and class though and had notched four tries by half time, to lead 29 - 9 at the break and after a hesitant second half start, carried on their merry way.
Coles played a part in two of the first half tries and Vito was prominent in the lineout and with clever defensive reads. Coles, who must be close to a test call-up as the All Blacks seek successors for their ageing hookers, was given a 50 minute run.
A flow of penalties helped Counties Manukau go the length of the field for an early second half try. Game on perhaps? But no. Thrush and Perenara combined on a long range move and Tim Bateman scored when replacement Steelers hooker Mark Price had his clearance charged down.
The new scrum laws were on show and, worked better in the first half than the second which brought some re-sets and collapses. The replacement players struggled with the new deal. Lee admitted the new regulations, which reduce the initial hit, were awkward to get used to.
Counties Manukau will want to find ways to let their dangerous Super 15 runners have more influence than they did last night. They must sort out their defensive lines, and their ground staff might also improve the rather obscure on-field lines at ECOLight Stadium.
Wellington 55 (Sinoti Sinoti, Jeffery Toomaga-Allen, Dane Coles, Matt Proctor, Tim Bateman, Shaun Treeby, Joe Hill, Taniela Koroi tries, Lima Sopoaga 6 con, pen), Counties
Manukau 16 (Maama Vaipulu try, Baden Kerr 3 pen, con).
Halftime: 29 - 9.