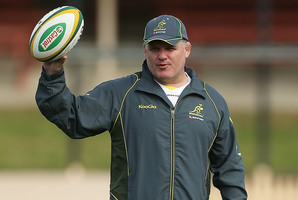 The Australians may be on a global downer in many sports but have always rated highly for their nickname selections.
Now they have "Link" in their national rugby spotlight, or Ewen James Andrew McKenzie as his parents named him 48 years ago, before he became the new Wallaby coach.
McKenzie's nickname was a dig at the neglect given to props' work in rugby and their alleged low IQ rating. McKenzie wore the moniker well; it allowed him to maintain a detached mood in public and avoid too much interaction with the media.
That has disappeared now with McKenzie front and centre of all things Wallaby as the side looks to regroup after defeat in the Lions series and redress many of the issues that have left the sport rating fourth and sliding in the crucial television world in Australia.
McKenzie is a rugby rarity. He was born in Victoria and only the second man from that state to play for his country. He played 51 tests at prop before turning his smarts to coaching in several states. He also qualified as a town planner and could tussle with many of the sharp minds who inhabited the Wallabies in his 1990-97 test-playing years.
He understands the value of organisation, planning and strategy and the accompanying need to distil that information so the players can digest his concepts. By many accounts, he has been planning for some time how to implement his ideas if he was promoted.
That came quickly at the end of the Lions tour when Robbie Deans' time at the top ended abruptly.
Six weeks ago the deal was sorted, McKenzie beat out Jake White for the job and was asked to solve the Wallaby woes. His tasks were to measure out an extended squad, settle on his test-match plans and evaluate the players during several camps.
All that had to be compressed and dovetailed into McKenzie's ideas about taking on the leading side in the world in tomorrow's opening Rugby Championship sortie.
It was a massive task just to rework the rugby theory. Then there were the behavioural issues which have dogged the Wallaby group for the past few seasons. No wonder McKenzie bypassed attending the Super 15 final for more time in his planning bunker.
Besides, he had overseen his Reds side taken apart 9-38 in the Super 15 playoff match by the Crusaders who have an All Black-heavy influence. He had watched his weary men feel the wrath of an inspired home team.
That was one part of his jigsaw while the other, the assessment of the Brumbies, could be done in-camp. What he saw from many encouraged him, including five-eighth Matt Toomua who, like his coach, is a born-and-bred Victorian.
Behind McKenzie's mournful exterior, his sporting computer was whirring.
He knew the Wallabies could not repeat what they had been doing for some time and hope for different results. Change had to happen, but where?
Scrum engagement alterations should be one of his areas of expertise, where the front rows connect and then begin to battle. He searched for men who could do that and more, some like James Slipper who could contest the set-piece and, like a Wyatt Crockett, offer stacks around the track.
He wanted a bit more of a dirt-bag mentality threaded into the system, the sort of flinty edge that Hugh McMenamin and others could add to the pack.
McKenzie was not interested in blokes who were happy to do their core jobs; he looked for those who would do the extra graft, work for another tackle or hit another ruck; men who would do the "one per cent" stuff all the time.
"I see a lot of similarities between what we had at the Brumbies two years ago and what is currently happening," loose forward Ben Mowen said. "What I take from the Brumbies experience is that new opportunity and new life you breathe into the players, they're not worried about what's happened before them.
"They just want to achieve for them and the team now.
"With Link coming in that's been a big point he's hammered in in terms of psychology," he said.
"We're the 2013 side and we have to make sure we get results for the 2013 team, it's irrelevant what's happened before."