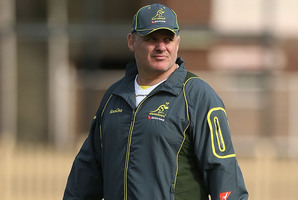 The Wallabies are excited by new coach Ewen McKenzie's game plan to end the All Blacks' decade of Bledisloe Cup dominance and are determined to start their new era on a strong note.
McKenzie has been careful to retain the element of surprise as he prepares for his first game at the helm in Saturday's clash in Sydney.
Reporters have been kept well away from training to prevent disclosing his tactics to the All Blacks.
The players have been quick to buy into McKenzie's approach ahead of their back-to-back tests against the All Blacks over the next 10 days that will go a long way to deciding the Wallabies' Rugby Championship and Bledisloe Cup fate in 2013.
Prop James Slipper has had plenty of experience of McKenzie's coaching at the Queensland Reds and saw the Wallabies squad gaining similar confidence from their new mentor.
"He's the type of bloke that really puts a lot of time in away from the boys. He does his homework ...
"The players really feel that vibe and we're really confident with what he's saying. We've got the skill and the talent with the players, it's just a matter of executing that game plan he sets."
Slipper felt sympathy for dropped colleague Benn Robinson but has no doubt he is ready to start against the All Blacks.
The dumping of 59-test front rower Robinson from the 30-man squad was the big surprise when it was trimmed from 40 last week.
"He's a very experienced prop, he's one of the best looseheads going around," Slipper said of Robinson.
"It was a big shock and I did feel sorry for him. But he's the type of player that will bounce back I'm sure and come back bigger and stronger and really put his hand up again.
"I'm sure that's not the last we've seen of Benn Robinson."
- AAP