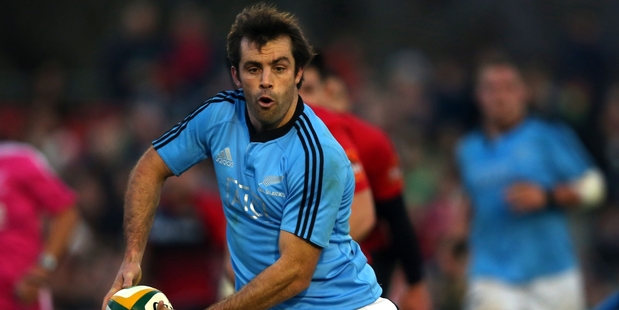 Like a glue cleverly used to bind several disparate objects together, Conrad Smith can be easy to miss.
He is, however, an extremely important component of the All Blacks' backline and all of his experience and adhesive qualities will be needed at ANZ Stadium on Saturday night in a line-up lacking Dan Carter.
The centre does all of his jobs so well his role can sometimes appear to be easy. It's not - the marks on his face are testament to the way he launches himself at the knees of attacking players, a commitment which will make him so hard for Steve Hansen to replace when he takes his short sabbatical at the end of the year. Others are his uncanny ability to wriggle out of a tackle and the way he creates space with his passing game.
Smith will play his 70th test in Sydney since making his debut against Italy in Rome in 2004 and has developed into one of the most consistent midfielders to have played for the All Blacks.
He has not been replaced in his last seven tests, something of a rarity in this age of regular second-half substitutions. In all of the 52 tests he has played since the middle of 2008 he has started every one.
Of all the players Aaron Cruden could turn to in the heat of the battle against what could be an unpredictable Australia, 31-year-old Smith should be one of the first - not that he thinks the Chiefs playmaker will need much help.
"You notice a bit of maturity about him so he slots in there pretty easily. I don't notice too much of a difference," he said of Cruden, a relative novice of 22 tests compared with 95-test Carter.
For Hurricanes skipper Smith, this week has been business as usual and not only because the All Blacks have spent their week in the familiar surrounds of Wellington before their scheduled trip across the Ditch today.
Smith has insisted that all of the players in the All Blacks squad are worthy of their place and there were no excuses for any drop in performances if someone was unavailable.
"Although we've got a lot of guys who have been there a long time, we'd like to think the next best guy is probably equally good, in terms of on the world stage as well. We'd like to think we've got a squad of 30 guys who are the best in the world, not just our starting XV.
"We've made a few changes. It's obviously the first week which brings a few challenges as well but I think we're going along pretty nicely," said Smith.
- APNZ