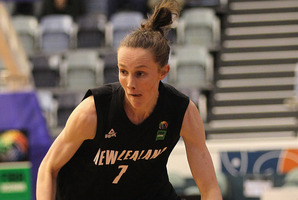 If the Tall Blacks face a tough task against an almost full-strength Australian Boomers, spare a thought for women's coach Kennedy Kereama.
Not only must his Tall Ferns beat the world's second-ranked Opals if they wish to seal a spot at next year's World Cup, but they go into it with just two days' preparation.
What's more, countering the Tall Ferns' seven rookies in the two-game Fiba Oceania series will be Lauren Jackson, widely regarded us one of the greatest players of all time.
Asked about the challenge, New Zealand co-captain Toni Edmondson put on a brave face and said her side was helped by the opposition's lack of familiarity with their rookies.
But Australia's players aren't the only ones short of knowledge when it comes to the Tall Ferns' roster.
"Two trainings," Edmondson said when asked how many times she had met the newcomers. "Some of the girls I've seen in a few camps before, so I've seen a little bit more, but a couple of the girls, like Megan Craig, that was the first time I've ever met her."
Men's coach Nenad Vucinic said he had never had a team go into a match after only two days' preparation. "That's a very difficult and very unfair situation that Kennedy and the team have been put in, but they always play tough and they always take it as it is."
The issue for Kereama is money. The Tall Ferns have next to none, resulting in an equal amount of negotiating power when attempting to persuade clubs to release players.
A number of established Tall Ferns have been unable to return to New Zealand for the series, while Australia-based players were able to join their teammates only on Sunday night.
"It's pretty tough but those are just the cards we've been dealt," Kereama said. "As much as all of our women want to come back and represent New Zealand, it makes it very difficult when you don't have the funding to bring them home."
Tall Ferns v Australia
North Shore Events Centre, 5pm today
- APNZ