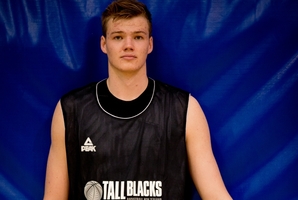 For most schoolboys an afternoon nap would be recovery or preparation for a big night, but Jack Salt required some kip for a different reason.
After training with the Tall Blacks early yesterday afternoon, Salt needed a nap before heading off for another scrimmage with the national squad in the evening.
And it's not just basketball and bed on the agenda for the 17-year-old - books also play a large part in the big man's life as he completes his final year at Westlake Boys High and attempts to achieve the academic levels needed to attend college in the United States.
Salt's days can be a bit of a blur but, as he and the Tall Blacks build up to next week's Oceania Championship series against Australia, that blur was working out rather well for the teenager.
He made his debut in the black singlet in the Tall Blacks recent tour of China, being thrown in the deep end after a number of New Zealand big men were unavailable.
The 2.09m centre showed his promise while playing against the Chinese national team and further impressed during two tournaments later in the trip, culminating with 16 points and eight rebounds against Canadian side Missisauga.
"The team did well and I got more minutes than I thought, so I was really happy," he said.
"I just got chucked straight in there for the first game, so I just adapted.
"By the tournaments I was pretty well adjusted, I think."
The only disappointment of the trip for Salt? After taking his books, a hectic schedule prevented him from completing as much school work as he would have liked.
"I had high hopes of doing a lot over there but I only managed a little bit. I didn't think it would be so hard to get work done, but my teachers were fine with it and I was at school the last few days catching up."
Salt said the balance between sport and study was hard to find on occasion, though it became a lot easier after he dropped volleyball from his agenda last year.
But all the hard work will pay off if Salt becomes the latest in a long line of Westlake students to play collegiate basketball in the United States.
"I'm in that process now and taking my SATs soon," he said.
"I'm talking to a few colleges at the moment but I'm just keeping my options open."
In the meantime, Salt will have no problems staying sharp on the court after earning a spot as a development player for the Breakers.
Having lived in the North Shore since moving from England aged four, Salt said any court time for the defending champions would be a dream, as would the chance the play in front of friends and family on Wednesday night.
"I'm not guaranteed a spot in the team yet but, if I do get selected, it would be a great honour," he said.
"We just want to be as competitive as we can and just improve ourselves against a tough Aussie side."
APNZ
- APNZ