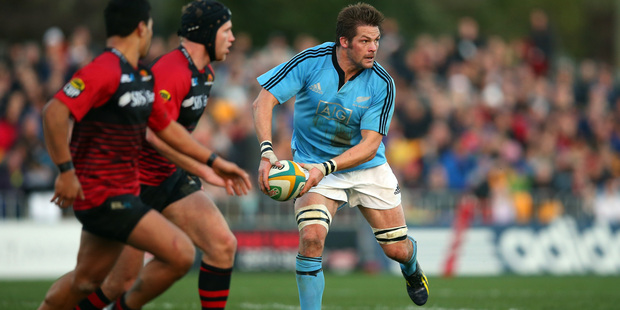 Forty minutes was all Steve Hansen needed to see.
Richie McCaw's road back to top-level rugby has been carefully managed following his sabbatical earlier this year and it took another step in humble surroundings at the Hutt Recreation Ground last night.
With temporary seating installed, a Lower Hutt crowd of more than 6000 were on hand to see McCaw play 40 minutes in a practice outing for the All Blacks against Canterbury.
There had been whispers he might play a full 80 as the national side also played a half against Wellington but Hansen had seen enough after McCaw's effort against his home province; a contest the All Blacks won 19-0.
The score mattered little, it was about having a gallop and testing the lungs and McCaw did just that.
"It's been a while, it's just nice to have a run around," McCaw said after the game.
A game for his Christchurch club and a couple of Crusaders cameos had been the openside's lot recently but after another 40 minutes last night, McCaw said he would be ready to start in the first Rugby Championship test against Australia in Sydney next weekend.
"If that's the way the coaches are going to go then I'm very happy and we've got a week's training to get all the bits and pieces under control, but, yeah, I'll be good to go."
Hansen agreed: "I don't think he's good enough. I know he's good enough," the coach said.
McCaw did little to stand out in his time on the field against Canterbury but performed his core responsibilities in his reliable fashion, snagged an overthrown lineout and carried the ball well.
"The fitness was there," McCaw said. "Was a bit of running there and it certainly burned a bit but not too bad and I think the big thing is getting your timing and all that sort of stuff. I'll be better for that run around, so pretty happy."
McCaw had been away from the All Blacks environment all year as he missed the June test series against France while he was on his extended break and he said there were a few subtle changes in the camp. "A lot of things are similar but I think the way we are trying to play, there's a few things we want to add and for me it was just making sure I try and get up to speed and get the feel of the game again.
"But it's quite exciting some of the things we want to try and add and challenging ourselves to be better in different areas and that to me is quite exciting.
"We've got a long way to go to where we want to get to but when we keep working at that and see the results of the hard work it's good."
For the record, the All Blacks scraped past Wellington 12-7 in the second practice outing via tries to Charles Piutau and Aaron Smith after the Lions opened the scoring through halfback Frae Wilson. A few bumps and bruises took their toll in the game against Wellington.
Hookers Andrew Hore and Keven Mealamu both spent time at flanker, while wing Ben Smith even packed down in the final couple of scrums after Steven Luatua limped off.
Hansen said after the game it was too early to tell if any of the knocks were serious.
None of the Chiefs contingent played for the All Blacks following their Super Rugby final win over the Brumbies last weekend, while Ma'a Nonu and Wyatt Crockett also sat out with minor injuries.
Earlier in the evening, a Canterbury XV beat a fringe Wellington side 24-0.
- APNZ