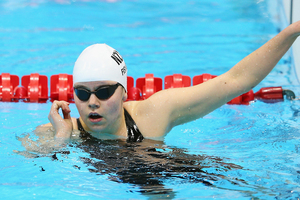 Mary Fisher is developing a handy habit of collecting world records.
The Wellington swimmer will hit the water for the IPC world championships in Montreal next week hoping to enhance a fine record since competing at the London Paralympics last year.
The 20-year-old had collected two silvers and a bronze going into the final day's competition in London.
Then she won gold, in a world record time in the 200m individual medley.
Back home, Fisher pocketed three more world best marks in the 50, 100 and 200m butterfly at the nationals last March, then added three short course 50m records in Sydney, for freestyle, butterfly and backstroke.
Now add in that Fisher - in her second year of study at Massey's Mount Cook campus in Wellington - was a finalist in the international athlete of the month in March, and won the people's choice award for New Zealand swimmer of the year last March, berating out double Olympic finalist Lauren Boyle and it's clear she is making a substantial splash.
Fisher has a genetic eye condition. She was born legally blind, but had about 10 percent visibility.
"Gradually I lost that during high school. Now I have light perception. I can go into a dark room and tell if it's a change from being in a light room," she said.
She hopes it has bottomed out. There are indications of stability in her vision loss, but Fisher is not one to mope about and bemoan her problems.
"It's one of those things. Everyone has challenges," she said.
"Some days definitely there are obstacles you come across and think I'm not sure if I'm quite able to adapt to that. A lot of time it's just getting on and doing it.
"London taught me not to take anything for granted. There were a lot of people with very limited physical function and you think 'wow, what have I got to complain about'."
Fisher has been training two hours every morning in the pool six days a week, spent three sessions a week at the gym, and occasionally did biking or jogging. It isn't a chore yet.
"Sometimes it's definitely hard to either sacrifice social things or get out of your cozy room and head out. But if you want to be the best every moment counts."
New Zealand have seven swimmers in Montreal. Fisher, who began swimming competitively at nine, and multi Olympic champion Sophie Pascoe are the kingpins, but Fisher is adamant the overall quality is significantly improving.
"Absolutely. There's been a lot of work put in in terms of publicity and the public perception of disabilities.
"Hopefully that continues in a positive way. A couple of months ago there was a trial camp in Timaru for swimmers interested in getting into Paralympic swimming. That was really positive, meeting young kids who are excited about it."
Fisher has entered six events in Montreal, the three freestyle distances, the 100m backstroke and butterfly and her favoured 200IM.
She still finds it hard to explain her feelings on that world record breaking day in London.
"Standing at the top of the podium, hearing the national anthem and knowing you'd done it for yourself, your coach, family and friends is something you can't really describe.
"There were too many emotions happening at once. All I knew was I felt totally shattered, and really happy."
Feelings she's aiming to rediscover in the coming days in Montreal.
++ The IPC world championships start in Montreal early on Tuesday (NZT)
++ New Zealand have a team of seven swimmers - Sophie Pascoe (Christchurch), Mary Fisher (Wellington), Cameron Leslie (Whangarei), Daniel Holt (North Shore), Jessie Reynolds (Hamilton), Nikita Howarth (Cambridge), Daniel Sharp (Hamilton).