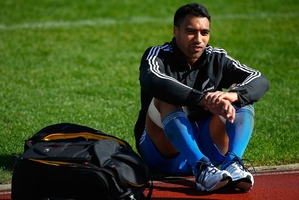 Victor Vito isn't going anywhere.
After being axed from the All Blacks last weekend the Wellington loose forward said he won't head overseas and will instead take out his frustrations on unsuspecting ITM Cup sides during the next two months.
"I'm not worried about going overseas," Vito said yesterday. "The black jersey still holds a huge importance for me and I want to stick around and I haven't written myself off. I still want to play well for this ITM team and just really try and help Wellington achieve something it hasn't since 2000, I think, and that's win the ITM Cup."
The rise of Blues tyro Steven Luatua has forced Vito out of the 28-strong All Blacks squad for the upcoming Rugby Championship and the Wellingtonian could have a tough job returning given Luatua's rapid improvement. Hurricanes blindside Brad Shields had a booming Super Rugby campaign this year and Crusaders loosie Luke Whitelock is also a useful prospect. All three are younger than Vito.
Vito has been told by the All Blacks selectors that he isn't physical enough and needs to maintain a higher intensity for 80 minutes.
All Blacks coach Steve Hansen said Vito needed to "unclutter himself" and the 26-year-old had no issues with Hansen's criticisms.
"Yep, they're pretty fair," Vito said. "The coach is always right, I guess."
It's a tough scenario for Vito given he is naturally suited to No 8 but Kieran Read is firmly established in that position for the All Blacks while blindside flanker is more up in the air, although Liam Messam may be finally turning a corner after the departure of Jerome Kaino.
In a bid to "unclutter" his game, Vito said he would seek the advice of All Blacks mental skills coach Gilbert Enoka and Wellington rugby's professional development manager Steve Symonds.
"I probably haven't changed enough," Vito said. "You're making mental shifts in areas I've never really explored before. [That] will probably be what's needed - do a bit outside of my norm."
Vito's first appearance on a rugby field since his demotion from the national side will be against the All Blacks when Wellington meet Hansen's men in a practice game in Lower Hutt tomorrow.
"It's something that doesn't happen all the time but I've got to try and make my point. But at the same time we've been told that we've got to make sure that it's for the greater good of our cause down the track," Vito said.
Vito will line up at No 8 in the practice hit-out at the Hutt Recreation Ground, which will last 40 minutes, while a Canterbury XV will also play 40 minutes against the All Blacks before Wellington.
- APNZ