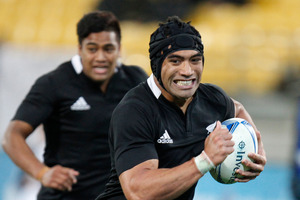 This week is shaping up to be one of the more eventful ones in Victor Vito's rugby career.
The Wellington loose forward has gone from being dropped from the All Blacks last Sunday to training with the Lions ahead of their ITM Cup campaign and on Friday will cap a blurry six-day stretch when he lines up at No 8 against the All Blacks in a practice game in Lower Hutt.
Few players must have ever been in the position of being axed from the national side then given the opportunity to play them only a few days later.
"It's something that doesn't happen all the time but I've got to try and make my point. But at the same time we've been told today that we've got to make sure that it's for the greater good of our cause down the track,'' Vito said.
"We've got a game against Counties [next Thursday] so we can't forget about that either.''
The 26-year-old, who has played 22 tests with nine starts but has never cemented his spot in the All Blacks, admitted it was a disappointing blow to hear he wouldn't be in Steve Hansen's 28-strong squad for the Rugby Championship with Steven Luatua preferred as the fifth loose forward.
"It was a pretty tough week. I was pretty gutted. It would always hurt missing out on teams such as the All Blacks but they're the best team in the world for a reason and it's never going to be easy keeping your spot,'' Vito said. ``So I've just got to make sure I take away the learnings and that stuff that the coaches have given me and try and put it on the field for the ITM Cup.''
Hansen said on Sunday following the announcement of the All Blacks squad, headlined by the dumping of halfback Piri Weepu, that Vito needed to ``unclutter himself'' and pointed out the lack of physicality and intensity in his performances.
"Yeah, by unclutter he just means be free and just get rid of some of the things I always try,'' Vito said in regards to Hansen's assessment. ``Sometimes less is more on the rugby field and for me - someone that always wants to have a lot of information - it's probably got in the way of my game and he wants me just to run round and get back to what my strengths were. So that's a little bit about what ITM's about for me.''
Vito said he had an inkling he may be given the boot but vowed he wouldn't be looking for a plane ticket to Japan or Europe any time soon.
"I'm not worried about going overseas. The black jersey still holds a huge importance for me and I want to stick around and I haven't written myself off. I still want to play well for this ITM team and just really try and help Wellington achieve something it hasn't since 2000, I think, and that's win the ITM Cup.''
With Vito returning to provincial duties, Wellington has one of the most dynamic loose forward trios in the competition with Vito likely to play No 8 with Hurricanes team-mates Ardie Savea at openside and Brad Shields in the No 6 jersey.
Savea, who missed the back end of the Hurricanes campaign due to an ankle injury, said today he was still two weeks away from being ready to play.
Friday's festivities at the Hutt Recreation Ground will see Wellington and Canterbury play each other for 40 minutes before the All Blacks will play Canterbury, then Wellington will get their shot at the All Blacks for 40 minutes.
- APNZ