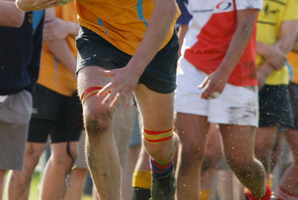 Herald readers respond to Gregor Paul's week long investigation into schoolboy rugby's dirty little secret.
***
Dear Herald
Upon reading your articles about school boy rugby I thought you would be interested in my experiences at one of the schools you are focusing on, Mt Albert Grammar.
I was one of the students at the school who was a high performance sports player, with the school sporting 'silver lion' badge to show for it, as well as a lowly arts student. My whole reason for transferring from a small all-girls school to Mt Albert was so that I could develop my art. When I was accepted to the school however I received a call from the then Head of Sport asking whether I planned on trying out for the school top team in my sporting code. I said no. He responded by telling me I would be hassled if people found out about my sporting background. This if you ask anyone is a horrible thing to say to a 15 year old who is about to attend your school.
This was my first experience on what a strong focus they put on sport in general so you can just imagine the amount they put on rugby.
It doesn't take long to realise that rugby and 'sporting excellence (which if Dale Burden mentioned one more time I could have screamed at him) rules the school. You couldn't sit through a single assembly without hearing the first 15s latest achievements. When they won some trophy, the national one from memory, I honestly thought there would be fire works and monuments erected in their honour. I would rather have sat through a marathon of the GC than that assembly.
The first 15 could get away with pretty much anything, but for the sake of the individuals involved I won't divulge.
One of the very unfortunate facts is that other departments suffer because apparently the school doesn't realise rugby isn't a subject. Often the art department would run out of paint, paper and decent brushes all of which are slightly essential to a art student. It's amazing what the art teachers managed on their lack of budget.
I could go on but instead I will leave you with this. Have you checked to see how many players are repeating year 13 or as we called it year 14? You might be interested in why they have to be at school for a whole extra year. You might assume its because the didn't achieve level 3 NCEA but by the school's own rules if your marks are that bad you aren't allowed to play so why are they really there?
***
St Kents 1st XV is all about PR and profile for the school and Principal Steve Cole.
Do not send your 12 or 13 year old reasonably talented and rugby mad son to the school with the thoughts he will make the 1st XV.
Your hard earned school fees will likely go to pay for rugby scholarships for South Auckland or Northland boys who will keep your lad out of the 1st XV - that's irony.
***
In 2006 St Peters had a boy called Dilip PIFELETI who was an outstanding prop. Made NZU16 etc etc and was going to be the next best thing since Olo BROWN. He was in the 1st XV as a year 11.
He approached us and said that St Kents had given him a guided tour of their facilities and offered him all expenses free to go to their school. He turned them down.
St Peters Headmaster wrote to St Kents where they denied all knowledge. I spoke to their 1st XV manager later in the year when we played them (and beat them) and he also denied all knowledge and denied that ever happening. Someone was lying!!
In 2007 the same school enticed another Tongan boy prop Haani (cant remember his last name) from De La Salle. De La Salle complained at the behind the back tactics and illegality of it. Again St Kents denied any wrong doing although it was all illegal.
Recently the same school offered to and paid Tasesa LAVEAs brother Tai to move from a very successful coaching posn at Aorere College where he got them back into 1a from 1b. They asked him to bring over 2 props from his school which he did.
Aorere complained and Tai LAVEA was banned from being on the sideline of any 1st XV matches that season.
Early 2000s cant remember the date, St Kents were relegated to 1b and much was made in the media about their Head Master threatening to take the Akld Secondary Schools Rugby to court as he said they were promised a promotion/relegation match, which back then never happened.
St Kents!! A very reputable school they say!!
***
Congratulations on your series of articles on First XV rugby. As a long time fan and attendee of First XV games, the way the competition has changed and evolved (in the most part, not for the good) needed to be exposed. If nothing else, your articles will heighten awareness around teams that are tempted to 'poach' players and put rugby before educational needs. And importantly, this should now mean the so-called 'elite' schools, with their recently planned Super League concept, will have to think twice. It would be terrible to see such a divide in schoolboy rugby.
***
To Who this May concern
Firstly I would not liked to be named in any shape or form, and request that if it is to be used in the News Paper etc it is done so anonymously
At one of the top schools in Auckland which i wont name, I had been in the squad the previous year and was "forgotten about this year" or so I have been told, However I have been told I would play next year, our school is way to revolved around rugby, Our first xv players get extra privileges that full paying students don't. Boys on scholorships are treated way more highly compared to us full payers, we work our way all the way up then just get an import over the top of us its ridiculous really.
***
I went to KBHS and played 3 years 1st XV, 1982-1984, winning the Auckland Championship twice, once as Captain and our success was built on the coaching of Wynne Jones and Brian Megson. St Kents was not a school we would even consider playing, because they just weren't that good. The powerhouses were KBHS, MAGS, and AGS, and results were built purely on the talent that cycled in and out of the schools catchment - one year you played Sean Fitzpatrick at Sacred Heart and got your arse kicked, the next year he was gone and you beat them by 20 points. The biggest achievement for us was beating St Stephens at home for the first time in 1983, having beaten them for the first time in 1982.
In 1983 KBHS won every Auckland Championship in every sport, probably never repeated and unlikely to be, because we had a gifted generation attending, many of who went on to represent New Zealand and other nations.
***
Let's not beat about the bush! We can lump Hamilton Boys College in the same boat as the big five in Auckland. Their First XV provided the biggest threat to St Kentigens in last year's national competition. They aggressively market themselves and can also be found providing scholarships to promising rugby players in the Waikato and beyond. My brother in law was manager of the New Zealand Youth Olympic team that competed in Singapore. He had a young runner who was from HBHS in his track team as a sprinter. He told Neil he wasn't even the fastest runner in his school but the two quicker boys were members of the First XV and not permitted to do track and field. Are these schools really preparing these players for rugby after school or is their focus entirely on the next First XV? Figures released in the NZRFU report last season suggested up to 48% of all First XV players never play the game again upon leaving school. I wonder what would happen if the Auckland 1A competition was reduced to just those five big spending schools?
People in the rugby union know what's going on ...it's just that no one has got the guts to ride a complaint or an investigation out to the bitter end. Well done Gregor Paul for these articles.
***
Hi There,
I have been reading the articles in the Herald over the last two days and it is no surprise that something like this would come to fruition.
I am a parent from Westlake Boys High School and have had boys in the 1st XV team for the last two years and have been working and supplying after match food ever since. This comes from our own pockets every second week and has done for the past two years. Our team has not suffered from the lack of costs and we would probably be one of the smallest sides on the shore. Last year winning the final and hoping to be in the final again this year.
It is a real honour to be picked for the 1st XV Rugby team at any school but these teams must compete fairly. This means, players should only be eligible if they are of age and are still within school. This should not include students who are repeating or finished NCEA Level 3.
Kings College gave an ex Rosmini Student a scholarship this year and this student has completed NCEA Level 3. The player concerned was dropped from 1st XV and only played 2nd XV. This players also missed out on NZ Secondary School Rugby. So why is he at school this year, surely it's not about the learning, it's all about the rugby and missed opportunities.
Any student who has finished or is repeating should not be able to compete in the 1st XV Rugby Competition. If they are a repeating student they should be at school to pass and not for Rugby.
Our experience against St Kent's last year with players who were above age and 3rd repeat students, looked like grown men, there was no chance.
I believe that if a school has to go to great lengths to take in repeating students and students who have legally finished school just to win the 1st XV Competition then obviously they are not that great if they played this on an even keel.
College Sport and the Provincial Rugby Clubs should be making a stand on players who are participating that have either completed NCEA Level 3 or are repeat students. Failing students should be forced to get through their repeat year with focusing on education and not sports.
The following should be a criteria for playing 1st XV Rugby:
-Still at school and under the age of 19 years
-Not a repeating student (this will ensure that players who are picked need to maintain their grades)
-Not a student who has completed NCEA Level 3 (go play Unviersity Rugby or Club Rugby)
Does not play for a first grade team at a club or has participated in an ITM match for their provincial side.
These are my thoughts but something needs to be done and quickly.
***
Reading with interest your series of articles concerning 1st XV rugby in Auckland.
As someone involved in school boy rugby a lot of what is being written is interesting but not new, however one thing I would add to your article about St Kents this morning is that it is not just about the poor results of their 2nd XV, have a look at the Grand Finals results over the last five years and see how many of those finals were contested by St Kents rugby sides throughout the grades.
My recollection is that last year one other side apart from the 1st XV contested a Grand Final, the year before none.
Say what you like about AGS and Sacred Heart but they consistently have a high representation in Grand Final rugby in a number of grades ,and not just in the A grades either.
***
I went to Sacred Heart College from for 3. I was a boarding school student and enjoyed my time there, made some good mates and had a lot lf fun. I left school early in the 6th form in 2007.
The following year after I left my friends told me that almost all the 1st 15 rugby side had been selected as prefects, which I thought was pretty stupid. Most of them did nothing at school but play rugby.
My best mate was made joint Head Boarder but was not made a prefect. He deserved it and so did a lot of others at that school but they werent recognised. I believe it was because they werent good enough at rugby. ( not in the 1st 15)
That school revolved around sport! For a christian school to put more emphasis on sport than religion and education I feel is pretty wrong. Half the reason I left school was because there was definitely too much emphasis on sport and I felt I was wasting my time. I wasnt bad at sport, I played rugby and cricket for good teams but didnt take it as seriously as some.
I did get a good education at that school but felt that it was hard to get recognition for anything, especially education and looking back I am glad I left when I did but wish I went to another school to finish my NCEA.
Most of all I feel for my mates who I know deserved to be recognised for what they did, but unfortunately they never will. Most of the 1st 15 players were up themselves and didnt care much for thier education or others for that matter. It was forced upon us to play a sport at SHC especially as a boarder. And if that sport wasnt rugby it pretty much didnt count as a sport.
Thanks a lot.
***
Enjoying your article about Auckland school boy rugby.
I have three boys who have, amongst them, enjoyed six fantastic years in the AGS 1st XV, starting in 2004 through to last year, 2012.
I have witnessed at a very close range over a very dynamic period, the shifting of power and the politics in what is now a very high profile school boy sport. ( thanks to Sky Sport's initiative )
My boys have played school boy rugby at the highest level, Auckland U18 rep sides as well as NZ Schools representation.
It is very interesting, and some what disappointing, to see the St Kent's model in operation. I think this is more about enhancing 'Brand' St Kents, across ALL the sporting codes, to compete with the perceived, number one branded private school, Kings College.
St Kent's have always trailed their South Auckland peer in brand perception. The Head master's tactic or marketing plan is clearly closing the gap.
However, their all too obvious success through their professionalism will, maybe, rebound a little after your articles, but I don't think so.
The playing field in Auckland school boy rugby is not so level any more. You mention the disappointment for boys at St Kents climbing to the 2nd XV then unable to compete with the imports.
It is exactly the same for boys from competing schools who finally making their respective 1st XV. They start a season full of hope and promise until being beaten by 30 points by the St Kent's machine.
St Kent's last year defeated Otago boys in the National final by over 30 points, then the World final by a similar margin. Remarkably they are unbeaten in 45 matches - unheard of. How does that happen? That's right - it's down to the coaching!!
It has certainly taken the gloss from a competition that has been fought hard for, over a very long and esteemed history.
This is not a sour grapes dissertation. My boys have been part of championship winning 1st XV's at Grammar and personally my loyalties are divided, given my alma mater is MAGS. I enjoyed three years of 1st XV there. We won in 1973 and were runner up in ' 72.
This is clearly about a competition that is now unfortunately predictable, which is such a shame for so many reasons.
ARFU are clearly aware of this issue as many schools have sought change. Lawyers have been involved.
***
Enjoyed your article regarding school rugby budgets and the widening gap between the haves and the have nots.
If anything those budgets are dwarfed by those in Sydney with 2 schools in particular having budgets second only to the NSW Waratahs. Without a recognised 3rd tier the clubs cannot compete with schools with money - as a result the kids who don't get picked up in the Waratahs academy regularly show a massive dip in training and coaching. This shows up in the results of the Aus U20's.
***
Me just turned 67 [July 14] - attended AGS - classmate with Beanpole Whiting - even way back then it was ON !! AGS offered special deal to several Tongan guys to finish their final year of high school education at AGS - selection based on academic criteria or RUGBY ability ?? You figure - great footballers they were !!
Went on for years - my Dad born in Tonga [European] so I had some affinity with imports but hey they played well but were only there for one reason - win at all costs !!
1st XV.
***
"Syms says nearly all of last season's pack left knowing their tertiary education was paid for. "All bar three of our squad have never lost in the 1st XV jersey," he says. "Rugby is a vehicle for these boys to go where they want to go. Success for us is seeing the boys go on to achieve more when they leave here."
Has anyone followed up some of these players to see where they are now? Often, secondary school rugby stars don't make it in higher grade football, or in academia, busines etc.. Some research might reveal whether all this expenditure benefits them in the long run.
***
Hello
My son left school (Rangitoto College) just over 3 years ago, he played in the 1st 15 during his time at the school, Rangitoto Rugby has been in decline for a few years now,possibly partly due to the vast array of ethnic mix at the school but is also not helped by the top Club players(prior to starting high school) are recruited by out of zone schools for their sporting ability,excuses like wanting to go to a all boys school and/or "its a Catholic school" are used as excuses but it is commonly known among the boys themselves that the good players,sometimes for certain positions are enticed to come to a particular school. In my sons era there were a number of boys who went right past the gates of Rangitoto college to their "School of choice".
It creates a very one sided competition and invariably a school like Rangitoto end up at the bottom of 1A or middle of 1B and if in 1A suffer some big scores against them,they are usually smaller and don't have the across the board talent to match schools who recruit. I know the Union was trying to put a stop to this practice, but really its pretty near impossible with the freedom of choice card played!
Its unhealthy for the game but in my experience its mainly driven by parents trying to get the best for their child,with little or no care to how it affects others,they are the same ones loudly cheering as there sons team scores another try to take the score to 70-0. I spent some years on the East Coast Bays Rugby Junior committee,so became fully aware of what some parents will do for their little All Black.
Not sure if there are any realistic answers/solution,but the practice is alive and kicking for sure.
***
Hi
Would like to stay anonymous - My son is at St Kents.....I understand the figure is over $600,000 for the school. The non 1st 15 students at the school are more than a bit disgruntled about the treatment of these students.
After scholarships, coaches, and a staff which possibly is on par with any super rugby team.
School fees alone for the "imports" $17,000, add another $13,000 for the boarders. I will not say the whole team is on this "deal", but I can guarantee that most of the students of pacific origin are.
I have no issue with this as these kids will be getting a better education, outside of their peer groups and becoming better role models for future pacific island children. Also St Kents did stand down and expel their former captain for reasons that really do need to be publicised.
I would believe that your estimate was only for the Japan trip.
***
Hi there,
To judge the inherent strength of rugby at the school, versus the over-emphasis on First XV, it is worth looking at the age-grade competition results from the schools.
You can easily see the schools that just pour money into paying for a First XV. They tend to have no or few teams in the age grade finals day.
Last year, the age grade finals day was dominated by teams from Sacred Heart and Auckland Grammar. St Kents had only one team I think.
It appears that good rugby players struggle to pay the fees at private schools. So the schools use $100,000s of thousands of scholarship grants for those boys.
It is not surprising St Kents won't divulge their budget. It wild be in the millions if you included scholarships for the boys they bring in at 3rd or 4th form on rugby scholarships from the Roller Mills or from the Islands.
***
I know your a rugby writer and your pieces on exposing the financing of secondary school rugby are very needed but the point should be made that this is happening in a number of major code sports - look at the hockey, football, netball etc results for evidence of this. Your article on St Kent's is excellent and is all the more remarkable since their 1stXV was relegated and in 1B less than 10 years ago. Schools without the hindrance of strict zoning (private & special purpose schools), with large trust backing and those with boarding houses (MAGS, EGGS) now start significantly ahead in any of the premier competitions - the results speak for themselves!!
***
I am reading your articles on schoolboy rugby in Auckland with considerable interest.
At some stage I should imagine that there would be an analysis of the individual players concerned who make up the numbers of being new to the school or who have not been there all the way through from year 9.
It would be interesting to note how many such movements involve Polynesian boys given the high percentage of Polynesian players in the Blues and Warriors squads. The photograph in the Herald today of the King's v AGS game shows two such players.
The debate for the indivdual is whether for him such a move is a good thing. It certainly benefits the school from the perspective of its rugby results and one hopes for the individuals that it lifts Polynesian aspirations. There is clearly an excellent example of Keven Meleamu staying put with his original school but it would be interesting to observe whether the move to another school has been beneficial for the boys concerned.
The tone of Monday's article suggests that it has been beneficial for the boys from Northland.
What has happened to such formerly strong rugby schools as Avondale College.
***
Gregor, interesting expose; you really need to take this to the next level though.. My son was an age grouper in Triathlon and is now a competitve cyclist. He attends a decile three school in Rotorua. We went to the NZ triathlong Nationals in Queenstown a couple of years back; St. Kent's had about 50 students there, plus a coach, a physion, etc.. At cycling it is even worse.
Sport is becoming increasingly elitist and the real talent is being lost to those who can afford to send their kids to a fancy fee paying school
***
Firstly, great article.
I would be interested to see what Auckland Rugby's viewpoint on this is. They happily handed over the college rugby to schools a number of years ago and your findings are echoed through the club *system* with the same schools being feeders to similar strength and funded clubs at the expense of clubs that losing schools contribute to. Of note, once players are taken out of their home schools, they tend to also get sucked into the stronger clubs as a result of the same financial incentives.
The Auckland College rugby scene has seen the demise of teenage rugby in Auckland. Clubs now effectively cease offering rugby past U13 level and only re-engage at U20 and U21. The U15 and U20 level competitions falter as they attract only the youth that can not make up their school rugby teams or *drop* out of the education system. The real loss is also in the family area, as clubs lose the greater connection of support, coaching development and sibling attachments.
The reality is the rugby in schools is a business. They seek grant money in the same manner as clubs and also compete for registration money with clubs. Likewise, they attract sponsorship money as well as support from the stronger and more wealthy clubs like Carlton Grammar. While ARU appears to sit on their hands on this, nothing is likely to change and Auckland Senior Rugby will suffer because of it as adult playing numbers and strength decrease - in particular as the schools and their local clubs lose players.
***
my son is at st peters who are in the akld 1a comp not considered a rugby school but we didn't send him there for that we have huge involvement with my sons club rugby team with majority of the boys going to or trying to get into sacred heart one of the parents where told by the school if her son didn't make it into bill mclaren they wouldn't accept him lucky for them he got in and also made the akld east under 13s he will be starting as a year 9 next year the mum said he was not very academic he only has rugby its so sad parents can't see that if your kid has potential it doesn't matter what school your kid will go to his talent will shine through back to st peters i just wanted to note their coaches consist of the it teacher a year 7 teacher and the only really qualified person the pe sports coordinator and they managed to churn out an all black this year lol high intensity rugby schools make me laugh
***