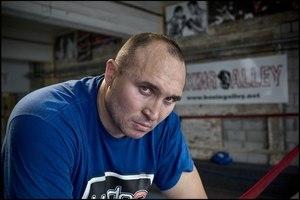 There is more than a whiff of a potential world heavyweight title bout when you speak to giant Russian Alexander Ustinov, who will fight David Tua in Hamilton on August 31.
The giant Ustinov, all 2.02m and 136kg of him, hails from the K2 Promotions camp, the boxing company owned and managed by the two brothers who have dominated heavyweight boxing for almost 10 years - Vitali and Wladimir Klitschko. The former owns the WBC world title; Wladimir the rest (WBA, IBF, WBO), the only time in history all heavyweight world titles have been held by brothers.
The 36-year-old Ustinov (ranked 10th in the world by the WBA and seventh by the IBF) is quietly spoken; trash talk seems unnecessary from a man so big and he has connections with the Klitschkos that go beyond being part of the K2 stable. He sparred with older brother Vitali early in his career, the two men of similar size.
But he has never sparred with nor fought younger brother Wladimir. Asked why, Ustinov says through an interpreter it is not up to him; he has to be invited to spar.
"In order to become a better professional, it is good to spar or fight with someone who is better than you; who can help improve your performance. Generally speaking, Wladimir fights smaller fighters rather than those of the same height as him, so there is not so much need to spar with someone like me."
That's one explanation. There is another story - that Wladimir knows he may have to fight Ustinov for a title one day so chooses not to give too much away in sparring.
So that's one reason why Tua is laying it all on the line in this bout against Ustinov. He is a direct line to at least one of the Klitschkos, with 37-year-old Wladimir probably more likely than 42-year-old Vitali who has hovered close to retirement, his last fight almost a year ago.
But why is Ustinov fighting Tua?
"David Tua is pretty famous, he is ranked reasonably highly and he is a good, strong opponent," says Ustinov. "It's a great opportunity for me to go up against a boxing legend. I want to win a world title, same as anyone who trains and fights like this; it is my main goal in life."
There's another reason. Two fights ago, Ustinov was knocked out by the hard-hitting and much respected Bulgarian boxer Kubrat Pulev, his first and only loss in a 29-fight career. Pulev has a 17-0 record and is perhaps the most avoided heavyweight in any of the world organisations.
It wasn't a pretty loss. Ustinov, the bigger man against the 1.94m Pulev, tried to dominate the 32-year-old Bulgarian (known as 'The Cobra') but took some punishment. In the 11th of 12 rounds, a Pulev flurry ended when Ustinov dropped to one knee, without seeming to have been hit by a knockout punch, and was counted out.
It looked like Ustinov quit but when asked he would only say that he would change "many things" about his strategy against Pulev - who now fights American Tony Thompson a week before the Tua-Ustinov clash; a fight which looks likely to lead directly to a title shot against Wladimir Klitschko.
The suspicion is that Ustinov's mental toughness was not what it could have been against the punishing Bulgarian, something he will need to overcome against Tua - and which will provide considerable motivation for the big Russian.
Ustinov needs to show he can foot it at the top level and foot it against a puncher; Tua is a renowned puncher and a win over him would be enough to solidify his world rankings - far more than his most recent win after his defeat by Pulev, an eight-round unanimous decision against Croatian journeyman Ivica Perkovic.
Ustinov has also fought (and beaten) Tua's latter-day nemesis, Monte Barrett, in a unanimous decision almost a year before Tua had his draw and then loss to Barrett.
"I would have said, had you asked me before the fight, that Tua would win [against Barrett]," says Ustinov.
Tua has had problems with taller boxers who can jab and Ustinov will tower over the much shorter Tua. So Ustinov thinks it is smart that Tua has hired the man reputed to be the world's biggest heavyweight, American Julius Long, as a sparing partner.
"For me, I generally fight shorter opponents so I don't need to spar against a smaller man to get used to it. But it is a great choice by Tua; he will be prepared after sparring against Long."
However, it's likely Ustinov doesn't think it is that smart a move. In 2008, Ustinov fought Long, knocking out the 2.16m, 140kg heavyweight two minutes into the first round.