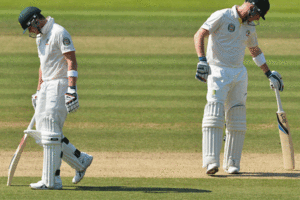 The Australian cricket team are bemused by a series of mystery patches on the Old Trafford wicket that look like they've been "burnt'' on.
It's no secret England have requested a spinning deck, but the question is will Manchester outdo Lord's and provide the biggest turner of the series?
Brad Haddin described the large grey spots as "different'' and Chris Rogers commented that the pitch looked "interesting'', as players assessed conditions ahead of Thursday's crucial third Ashes Test.
It's the first time a Test match will be played in Manchester since the new configuration changed the wicket to be facing north to south.
Correctly reading the surface will be vital, with both teams at least considering the merits of playing two spinners. England are the more likely to do so, given their second option Monty Panesar has taken 25 wickets in three Tests at Old Trafford.
Rogers said there were already cracks on the pitch, an ominous sign for the Australian battling line-up who were skittled by Swann at Lord's.
"Looking at the wicket it looks a little bit interesting. There's a few cracks there already so it'll be interesting to see how it plays,'' Rogers said.
Lancashire local James Anderson says the new square plays exactly the same as the old one, except maybe a fraction slower for the seamers.
Australia's strength is their fast bowling and it would be risky to go in with one seamer down and rely on Nathan Lyon and Ashton Agar to deliver, especially if the wicket plays as it always has in the past and doesn't start turning until the final two days of the Test.
Haddin was a little shocked at the aesthetics of the pitch, but isn't expecting too many surprises.
"It's got some interesting patches on it ... it's just a bit different. It looks like it's been burnt, little bits of it,'' said Haddin.
"We know what wickets they're going to produce are, it's not a secret. We've seen them in the first two Tests.
"They're going to be reasonable batting decks and turn later in the game. We've just got to play better.''
Agar is the man most under pressure heading into Old Trafford. He went wicketless at Lord's, where as his opposite number was man-of-the-match.
Haddin said if Agar was to be dropped, he'd expect him to handle the disappointment well. But at the same time he backed the teenager to deliver if he's given another chance.
"I hope he comes out and bowls us to victory in this game,'' he said. "But he's a 19-year-old kid. Hes taking everything in his stride at the moment.
"He's experienced the highest of highs and lowest of lows in the first two Tests. From that point of view he's handling things pretty well. It's a tough gig international cricket.''
-AAP