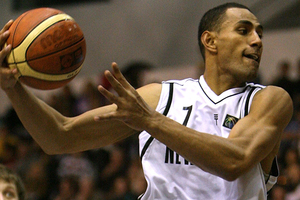 The Tall Blacks maintained their unbeaten record at the Shikoku Basketball Classic, defeating the local Liaoning side 67-61 at Szenchen, China.
Captain Mika Vukona was again a huge influence through the final stages, after the scores were tied 51-51 early in the fourth quarter.
The result was New Zealand's third straight win, as they prepare for next month's Fiba Oceania Championship series against Australia.
Liaoning, made up primarily of players from the local club that made the Chinese Basketball Association quarter-finals, were also unbeaten coming into this fixture and took an initial edge through the long-range shooting of Lu Wei.
The Tall Blacks suffered the early loss of swingman Tom Abercrombie, who appeared to suffer an ankle injury while attempting to block one of Lu's three-pointers and never returned to the game.
But Reuben Te Rangi struck twice from beyond the arc in the second period and New Zealand closed the half with eight unanswered points for a 33-27 advantage at the break.
That run extended to 10 with Corey Webster's long two from the corner immediately after the restart and the lead reached double figures with a pair of free throws from Vukona midway through the third quarter.
But the Kiwis were soon in foul trouble and, although their opponents couldn't fully capitalise, shooting 7/14 from the line for the period, it provided them with scoring opportunities during a stretch in which the Tall Blacks struggled to find the basket.
Liaoning then cut the deficit to five points entering the final straight and drew even with a three-pointer from Zhixuan Liu.
New Zealand were also struggling to counter the inside play of centre Han Dejun, but one solution was to challenge him defensively and Vukona was just the man to do that.
He repeatedly caught his bigger (2.15m) opponent flat-footed against the drive and helped trigger a seven-point burst gave his side the winning buffer midway through the final quarter.
Vukona would score seven of his team-high 16 points when it really mattered, including 5/6 from the line, and added 14 rebounds, seven of them at the offensive end. His contribution meant that for the fifth game on tour, the undersized Kiwis out-rebounded their taller opponents.
The home team could still have won this contest, but 17/30 free-throw shooting didn't help their cause.
The four teams now move camp to Zhongshan, where the Tall Blacks next play Cameroon on Friday night.
New Zealand 67 (Mika Vukona 16, Corey Webster 12, Reuben Te Rangi 9, Everard Bartlett 7, BJ Anthony 6) Liaoning 61