Solid performances influence choice to take boat out of water and concentrate on fine tuning before LV fina.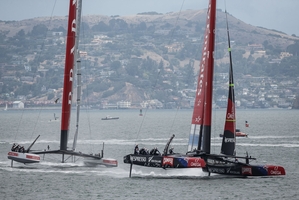 No more solo sails; no more lashings of Luna Rossa - Emirates Team NZ are going directly to the Louis Vuitton Cup final and we will not see them race again until August 18 (NZT).
That's when they will almost certainly sail against Luna Rossa and almost certainly beat them and gain entry to the America's Cup match against Oracle.
At this stage, a 7-0 victory in the best of 13 series looks highly likely as long as they avoid breakages and capsizes in the hard-to-control, on-the-edge 22-metre catamarans. Yesterday's round-robin win means Luna Rossa and Team NZ have lined up 16 times in America's Cup regattas - for a 15-1 scoreline to the Kiwis.
The team yesterday revealed their plan for the elimination phase of this regatta - to take their huge catamaran back to the shed for development, fine tuning and re-fits. In doing so, they will forgo their final round robin race - which would have been a solo sail against an Artemis team themselves unlikely to be at the start line on Wednesday (NZT).
Skipper Dean Barker said the decision was not an easy one: "You'd think it would be obvious to go straight to the final but we thought hard about the semifinals."
The team had the option of giving up their spot in the final and racing Artemis in the semifinals, thus allowing Luna Rossa direct entry to the final.
The rationale for racing in the semifinal was threefold: firstly, more racing on the water, polishing further an already regatta-leading sailing display; secondly, if Artemis are eliminated, Team NZ become the challenger of record, meaning more control if there are any more changes to the Cup protocol; and lastly, they were reasonably sure they could beat Luna Rossa in the final. However, they chose the shed option - deciding that the fine tuning of the already fast boat was the way to go.
"We wanted to do more racing," said Barker, "more starts against another boat and get more race time. But we also have a large amount of work to do on the boat to improve performance - and it takes time."
Time will tell if this is the right course of action although the reality is that the team's command has been such that they could have gone either way and succeeded.
That means the semifinals, which begin on August 7 will be between Luna Rossa and the as-yet-untested Artemis. Barker, pointing out that they hadn't raced against Artemis and thus couldn't judge the merit of the two boats, declined to select a winner to face Team NZ in the final.
The reality is that it will be an enormous surprise - and one of the great tales of the America's Cup - if Artemis manage to beat the Italian syndicate.
While the Swedish-financed syndicate have won universal admiration for getting their new boat out on the water and foiling for three days in a row - after electing not to foil in a previous design and losing crewman Andrew Simpson to their capsize in May - beating Luna Rossa may be a bridge too far.
The America's Cup catamarans are difficult to sail well; Team NZ are reaping the benefit of having longer on the water than any other team. It is also only by sailing them for months that the data can be gathered to make physical adjustments to the boat to increase speed.
Artemis have eight more days.
In addition, Luna Rossa put in their best performance of the regatta so far in losing to ETNZ by 3m 21s yesterday. That is still a wide margin in a 22-metre boat which can cover its own length in a second but the Italians were buoyed yesterday; skipper Max Sirena said it had been their best day's work.
They showed more consistency in foiling gybes, were not seriously thumped by ETNZ downwind, though they lost nearly two minutes upwind as ETNZ seem to have found a different gear there. The Italians' sailing was crisper and mistakes fewer and, though their boat is slower overall than ETNZ's, it should still be fast enough to account for an Artemis boat and crew still feeling their way.
While Barker couldn't comment on Artemis v Luna Rossa, he did offer a respectful opinion when asked about defenders Oracle.
'They are an incredibly powerful team who have recovered well from their own capsize. They have got two very good boats. They look fast and fast in manoeuvres and the like.
"They have a huge resource and are able to do a lot more than the rest of us but, having said that, they have exactly the same problems as the three challengers - they have to get one of these things round the course.
"We certainly looked at that option [more racing] but we decided to use the time to make changes to the boat and then we can control our own destiny in how we use the time on the water."
In the shed, the shore crew will be making all manner of small adjustments which can add up to big increases in speed in these highly responsive yachts. Team NZ also have a second wingsail which they haven't raced yet and which they say is faster.
However, that will likely not be dusted off until the America's Cup match as there is little sense in exposing their hand now.
Next races
Team NZ v Artemis*, Wednesday 7am
Luna Rossa v Artemis**, Friday 7am
* Neither team to take the startline
** Artemis unlikely to take the
startline